WATCH: Tahir Whitehead Aims a Judo Chop at Kenny Golladay
Published 11/04/2019, 6:48 AM EST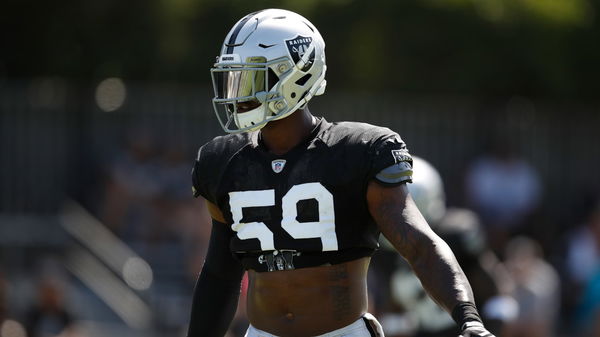 ---
---
In the game between Detroit Lions and Oakland Raiders on Sunday, Raiders linebacker Tahir Whitehead escaped getting ejected from the game, when he judo chopped Kenny Golladay.
ADVERTISEMENT
Article continues below this ad
The incident happened after Raiders cornerback Daryl Worley made an interception while guarding Golladay. Whitehead and Gallader were involved in a row, when suddenly, the Raiders linebacker aimed a Judo chop at Golladay's neck.
ADVERTISEMENT
Article continues below this ad
Tahir Whitehead played for the Lions for six years after being drafted in as the fifth overall pick in the 2018 Draft. Golladay came in as a rookie when Whitehead was still around. The now Raiders guy, Whitehead said that he was happy for Golladay.
"That's my guy," Whitehead said as per Las Vegas Review Journal. "I saw him come in as a rookie and get to where he is now. I'm extremely happy for him. I was just giving him a little (expletive). I jumped up on his back at one point and he didn't know it was me. He was ready to go. He turned around and I said, 'What's up?' He was laughing."
ADVERTISEMENT
Article continues below this ad
However, he seemed to deny any wrongdoing after the video of him giving a Judo chop to Golladay came out.
"He pushed me and bowed up on me, so I had to let him know, 'Look, I'm about that action too, boss. That's all that was," Whitehead said about the chop incident.
Talking after the match about facing his old team, Whitehead said that they were still his friends and that it felt good.
ADVERTISEMENT
Article continues below this ad
"Those are still my guys over there," Whitehead said. "You're wishing for the best for them and for them to stay healthy. But I wanted that (win). It feels good to go out there and get it against them."