WATCH: Trae Young Cannot Believe Luka Doncic Converting a Half Court Buzzer Beater in the NBA Rising Stars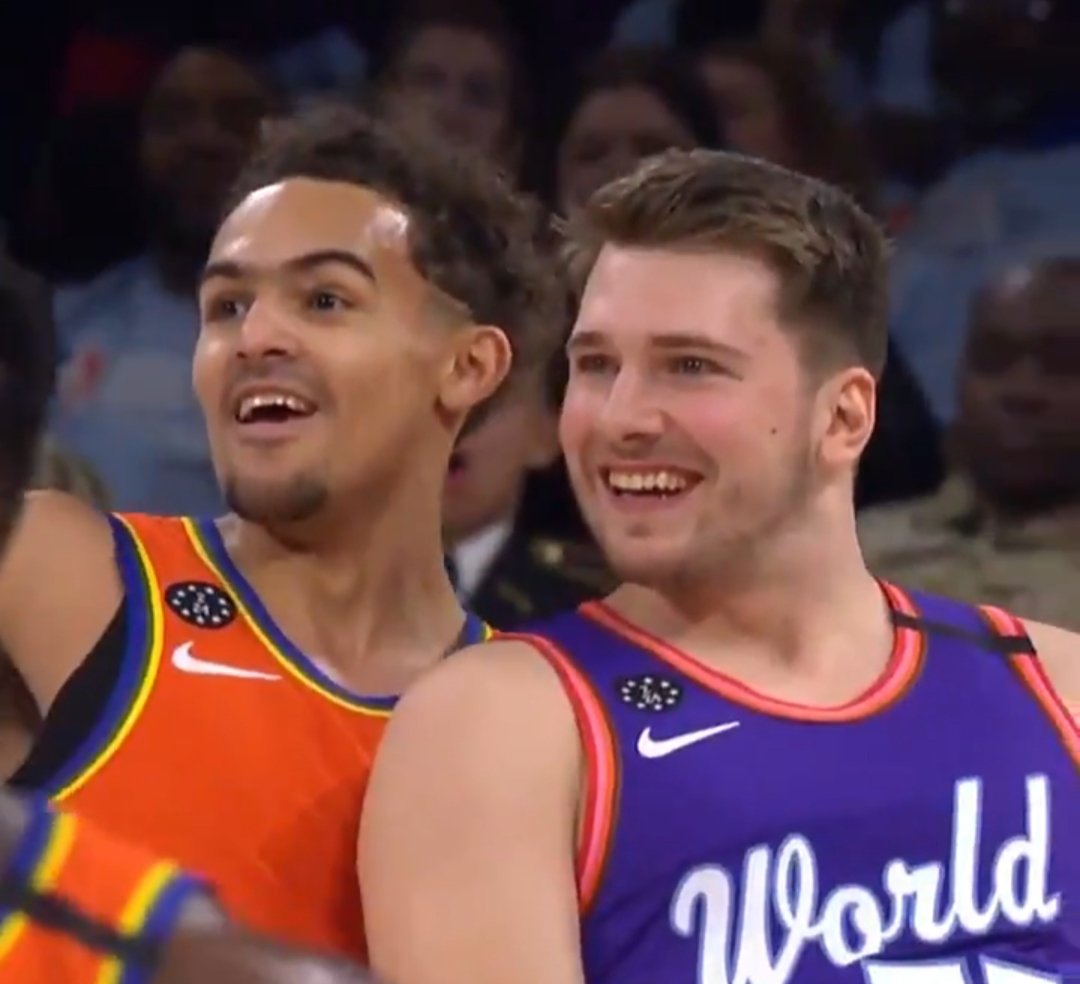 As the first half of the NBA Rising Stars game on Friday was about to end, Luka Doncic put in a basket from half-court.
Playing for Team USA against Team World, Doncic's buzzer-beater brought half time at the 26th Rising All-Stars. Immediately after the long-range basket, Doncic enjoyed the moment with Trae Young who was defending Doncic.
Luka's half-court heave had Trae speechless 😂 pic.twitter.com/aqeMV51c7z

— NBA on TNT (@NBAonTNT) February 15, 2020
Luka Doncic 💙 Trae Young pic.twitter.com/4LMCTkRXiu

— Nick Angstadt (@NickVanExit) February 15, 2020
Fans on twitter brought out the fact that it is moments like these that are good for the sport.
This is so wholesome. I love it. Just bc the fans want to have a beef doesn't mean they have to.

— B͢ཞ∌∉⃝⃕Z͙կ (@Tru_Breezy) February 15, 2020
No beef exist, both are great. Trae is going to make 5-10 all star games and have one of the greatest highlight tapes ever mafr and Luka will probably win a few MVPs and a few champions in his career

— Hectór Gaytán (@PosterBoyHec) February 15, 2020
What a fantastic clip man. League has a bright future

— ADudeNamedCourtney (@court_flynn) February 15, 2020
Can't stop watching this. Great stuff.

— Jay (@JayLloK) February 15, 2020
Enjoy how this young man are having fun… 💜💛💯

— Sonny Sandoval (@SonnySandoval10) February 15, 2020
Luka Doncic, Trae Young & Zion Williamson met Barack Obama before the NBA Rising Stars game
Prior to the NBA Rising Stars game, Doncic, Young and Zion Williamson had a face-to-face chat with former US President Barack Obama. At an NBA Cares event for the 2020 NBA All-Star, volunteers were contributing with school supplies before the Obama made an appearance.
No. 77 meets No. 44: Barack Obama surprised @luka7doncic, other Rising Stars players and local kids at an @nbacares event just a few mins ago pic.twitter.com/U0AIgotvS1

— Callie Caplan (@CallieCaplan) February 14, 2020
Doncic and Young are also starters with Team LeBron for the All-Star game against Team Giannis scheduled on Sunday.