WATCH: Virat Kohli Interviews Mayank Agarwal after his 2nd Double Century in 3 Matches
Published 11/15/2019, 12:46 PM EST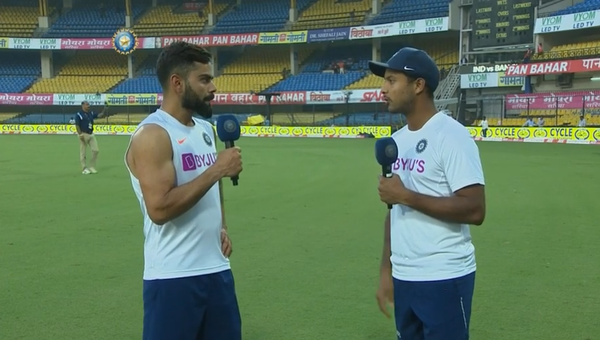 ---
---
If anything could be said about Mayank Agarwal in his short Test career so far is that he embraced the opening slot with open arms. Getting to start his career in not the easiest of conditions in Australia, Agarwal did not deter at what was in front of him. In his 12th Test match, Agarwal is now doing what is to be done, and what he has always done as a top order batsman- scoring big hundreds!
ADVERTISEMENT
Article continues below this ad
Agarwal, on Friday, scored his second double century in a space of two matches. An innings that took the game away from Bangladesh.
After the end of day's play, Mayank Agarwal faced Virat Kohli– not as a captain or a fellow player, but as an interviewer.
ADVERTISEMENT
Article continues below this ad
Virat Kohli was seen interviewing the star of the day. In a formal chat between the two colleagues, Mayank and Virat eventually managed to pull off a decent one on one.
"It's a tremendous feeling to get a double hundred," Mayank said. "It's a good feeling that I can come out there, bat well for the team and keep putting the team in good positions. I think it is very important that as an opener, when you get a start and when you got good conditions."
About his thinking behind playing long innings, he said: "All of us have been through times where we've not got runs, where we are struggling to get those 15-20 runs. So, I keep reminding myself that there have been times where I have not got any runs.
ADVERTISEMENT
Article continues below this ad
"Respect the game, respect the time that you are getting runs, you are middling and you are scoring those runs, and make it big. It's not that every time you are going to keep going out keep middling or keep getting double hundreds. So, you got to make sure once you are in, you got to keep going and make sure that you put the team in such a position that they cannot lose from there."
And when two people acquainted to each other in their everyday life are asked to talk formally, you could bet there's a laughter coming out somewhere around the corner, and it eventually came out when Mayank was asked about the importance of fitness levels- something which Kohli leads with example.
ADVERTISEMENT
Article continues below this ad
(Video source: bcci.tv)