Watch: When Brock Lesnar Got Destroyed Inside the UFC Octagon
Published 02/13/2020, 12:15 PM EST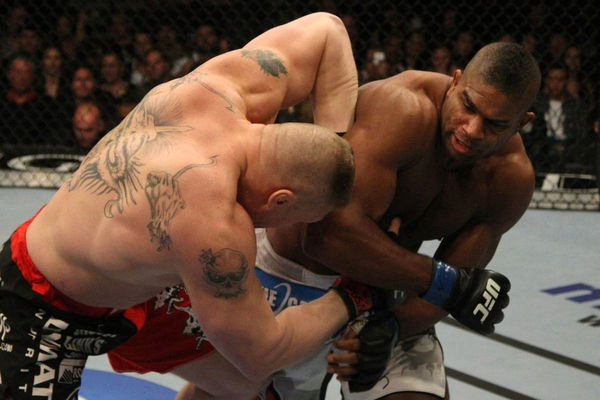 ---
---
Brock Lesnar vs. Alistair Overeem was a milestone event for the fighters' careers. The winner of the match would go on to face Junior Dos Santos for the UFC Heavyweight Championship.
ADVERTISEMENT
Article continues below this ad
The background of the fight was marred with controversy.
Both fighters, on NSAC's directions, were required to comply with out of competition drug testing. The sample screen that Overeem delivered did not meet the standards laid down by the committee. They even rejected a sample given by Overeem's personal physician, regarding it as unacceptable.
ADVERTISEMENT
Article continues below this ad
Overeem was finally given the green signal on December 12, 2011. At a meeting, the commission granted him a conditional license to participate in the fight.
The two finally met at UFC 141 on 30 December 2011 at the MGM Grand Garden Arena, Las Vegas.
The Fight, The Consequences: Brock Lesnar vs. Alistair Overeem
After losing his Heavyweight title to Cain Valesquez, this fight was a chance at redemption for Lesnar and even though Alistair hadn't lost a fight in four years, this was his UFC debut.
Th fight started with Lesnar taking the offensive. Shuffling his feet, 'The Beast Incarnate' threw jabs at Alistair to little avail, whereas Overeem remained calm and steady. Overeem maintained his distance and surged forward as soon as he saw an opening. He missed a right hand directed at Lesnar, but it did hit him.
The match picked up pace when Overeem started targetting Lesnar's body. A crunching left knee to the body threw Brock off-balance and he fumbled to defend himself. Overeem kept the body attacks going whereas Brock Lesnar tried desperately to create room and turn the match around.
A final left kick to the liver made Brock Lesnar clinch his side and fall to the ground. The devastating impact caused by the kick evidently caused Brock's surgically repaired body excruciating pain. Overeem rushed in fro ground and pound, landing huge blows on Brock's body and head.
ADVERTISEMENT
Article continues below this ad
The referee rushed in and called a halt to the match. Alistair Overeem won by TKO at 2:26 of the first round.
Ideally, Alistair would have gone on to face dos Santos at UFC 146, but he failed to clear the dope test and wasn't granted a license. They were again scheduled to fight at UFC 160 in May 2013, but Alistair pulled out of the match due to an injury.
Meanwhile, Brock Lesnar announced his first retirement immediately after the match. The Beast Incarnate returned to the UFC for two years in 2016 after which he was suspended and retired again.
ADVERTISEMENT
Article continues below this ad
Watch: When Brock Lesnar Avenged his Loss Against Frank Mir in a Brutal Fashion