Watch: When Caroline Wozniacki Interrupted Novak Djokovic Press Conference
Published 02/14/2020, 3:33 PM EST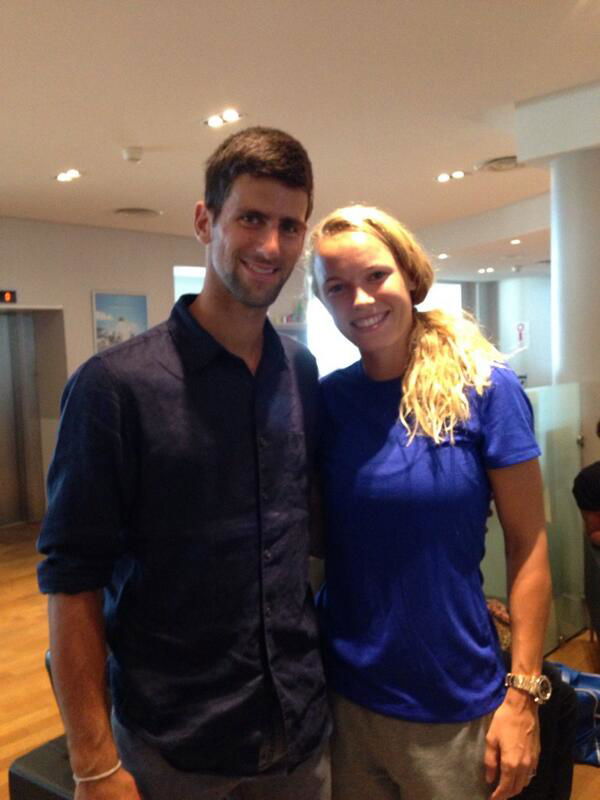 ---
---
It was the grass season as the tennis world focused on Wimbledon. As all players were preparing for the upcoming Wimbledon. Novak Djokovic, in the midst of a press conference, had a surprise visitor. A light moment eases the tension.
ADVERTISEMENT
Article continues below this ad
Novak Djokovic, the then World No. 2, was in the middle of a press conference, the weekend before the 2011 Wimbledon started. These were serious times, there was tension in the air with the Championship just around the corner. And then, a surprise presence chimed in to field Novak a few questions. It was none other than the then World No. 1, Caroline Wozniacki.
Novak Djokovic and is "losing streak"
ADVERTISEMENT
Article continues below this ad
Turns out, Djokovic and Wozniacki knew each other well. They were neighbors! She asked him how he would counter his one match losing streak.
You see, Novak was having a phenomenal season in 2011. He was on a 43 match win streak until the 2011 French Open, where he lost to Roger Federer in the semi finals.
His only loss of the season.
The ever-sporting and tactful Novak plays along to Caroline's prank. He cites Woz herself as an inspiration to stop his "losing streak." The crafty Dane fishes for some compliments too, and Novak complies like the sportsman he is. Watch the back and forth between the two.

And to answer your other question, yes, Djokovic did go on to win his first Wimbledon title. Barring French Open, he captured all the Majors that year. He also ended the year as the World No. 1 for the first time in his career. Caroline, on the other, had a few struggles ahead. She had to wait seven years for her first and final Major at the 2018 Australian Open.
ADVERTISEMENT
Article continues below this ad
The Dane retired from professional tennis as recently as the Australian Open when she exited in the third round, following which Djokovic had some warm words for Caroline on her retirement.
'Caro, I don't know how to say goodbye to you. We've known each other for a long time, and we lived in the same place for many years, so I've seen you jog on the street, I've seen you walk your dogs and I think we developed a nice friendly relationship as well." 
ADVERTISEMENT
Article continues below this ad
"You're a fantastic person, you've done so much for tennis. Your contribution is very positive for the game and the game will definitely miss you."