Watch: When Mike Tyson Made a Bizarre Admission After 49 Second KO Win
Published 03/29/2020, 3:00 AM EDT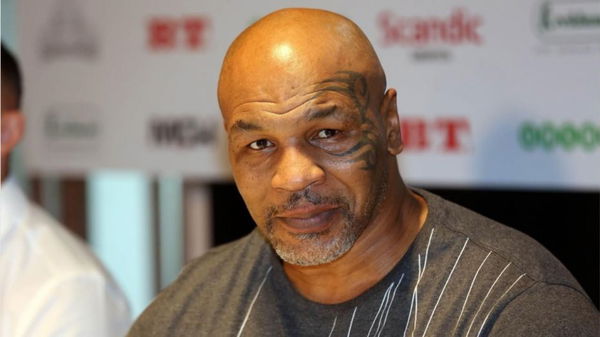 ---
---
Mike Tyson is a name one would always associate with that ear-biting incident. That is one thing that is most synonymous with the 'Baddest Man on the Planet'. This will not be forgotten for generations and will always be part of boxing lore. 
ADVERTISEMENT
Article continues below this ad
Mike Tyson fans however will choose to look beyond that dubious night and focus on some of their favorite's other moments. Such as his multiple wins via knockout, 12 of them in the first round. He even made loads of bizarre comments that will stay in the minds of his fans forever.
One such instance was in 2003, where he returned to the ring in a bid to solve his financial troubles. This bout against Clifford Etienne was just 8 months after he as knocked out by Lennox Lewis in the 8th round. This was his first bout with his famous face tattoo that would go on to serve as inspiration for many other people to do so too.
ADVERTISEMENT
Article continues below this ad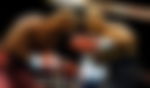 The fight was emphatically won by Tyson as he knocked out his opponent in just 49 seconds in the first round. Mike Tyson fans would no doubt be able to fill in loads of content about this win. However, like so many things involving Tyson, this bout to has controversy all around it. There were accusations that his opponent dived. More than Tyson's remarkable comeback, the night will be remembered for a very odd claim made by Tyson. 
ADVERTISEMENT
Article continues below this ad
Mike Tyson: " I broke my back. My back is broken
Tyson's claim in the post-match interview added to the bizarreness of the night. He told interviewer Jim Gray that he competed and won with a broken back!
There had been rumors in the buildup to Tyson vs Etienne that the 'Baddest man on the planet was injured. Speculations were that he was being himself and was partying, whilst others claimed he just got his new tattoo in the build-up to the bout. Gray decided to ask 'Iron' Mike the truth behind all these rumors. Tyson replied that his back was broken. This seemed quite odd and Gray though so to as he pressed by asking what part of the back. He even suggested a vertebrae, but Tyson insisted that it was spinal.
ADVERTISEMENT
Article continues below this ad
Later on, it emerged that Mike Tyson had misinterpreted the words of the doctor who told him that pieces of his back were breaking off. Tyson however believed that his back was broken. He even proclaimed the fact that he was standing to be a miracle. This has led to a lot of memes on the subject and only enhanced the legacy of 'Iron' Mike in popular culture.