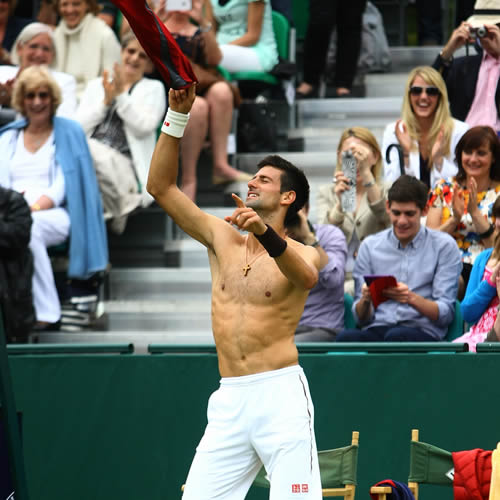 Novak Djokovic is one of the most disciplined competitors on court. However, he has shown the ability to have some fun whenever needed.
Be it copying the voices and mannerisms of fellow tennis stars, or uploading innovative videos on social media, Djokovic has done it all. However, what many of you might not know is that Novak has also done a striptease dance on the court.
As wild as it sounds, the incident was even funnier. In fact, Novak was not the only one who let his shirt go. His opponent in the match, Bulgarian tennis star Grigor Dimitrov was also up for the action.
Know More – "I Have Now Entered The Elite Arena" – Novak Djokovic Reveals The Breakthrough Moment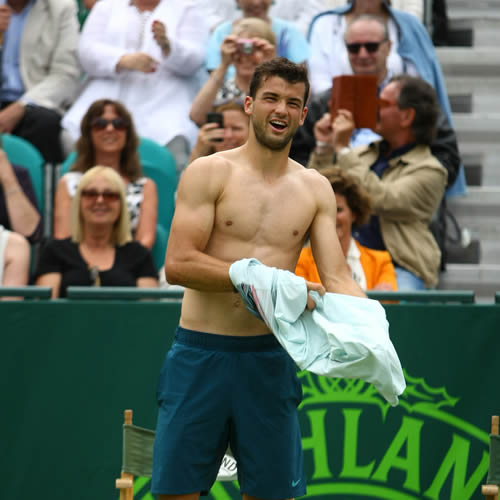 Why did Novak Djokovic and Grigor Dimitrov strip on the court? 
Novak was sitting on his bench during the break. However, an ecstatic fan shouted from the stands saying that she wanted Djokovic to change his shirt.
As the other fans cheered her request, Novak proceeded to see what he had in his bag. Luckily for those present, he had an extra shirt with him. What followed was a funny or sensual piece of dance depending on who you are, by the one and only Novak Djokovic.
However, that was not all. Novak was in a mood to have some fun and he would involve Grigor Dimitrov in the funny situation. He asked him to follow suit.

WATCH – Novak Djokovic's Wife Has The Cutest Birthday Wish For Him
However, a shy Grigor said that he didn't have any extra shirt. Eventually, with fan pressure and Novak urging him, he agreed. Fans were treated to a rare sight of players letting themselves loose on the court.
Talking about the match, it was a part of the Boodles event at Stoke Park. It is a favored practice tournament of Novak before the Wimbledon. He got a crucial victory against Grigor Dimitrov amidst all the fun with a final scoreline of 5-7, 6-3, 10-6. That was certainly a testament to the fact that he can separate his work and fun when needed. There is a reason why many people call Novak Djokovic the best player of all time without hesitation.