The tennis world arguably enjoys watching Roger Federer than any other tennis professional. Be it his tweener from the US Open 2009 semifinals, his around the net single-hand backhand at Australian Open 2017, or be it his slices and SABRs (Sneak Attack By Roger), the world simply cherishes his wizardry on the court.
Roger Federer smashed on Andy Roddick's smash
The Swiss maestro Federer played one of the best shots of his career in 2002 Basel Open against the last American man to win a Grand Slam title, Andy Roddick. To crisp up the description of the point, it was a smash against a colossal smash.
To begin with the point, the big-serving American Roddick served to Federer's backhand. He sprinted towards the net for a volley. With Federer returning the ball, he responded to it with a volley. The American made the Basel-native run to and fro on the baseline. Roddick dumped a monstrous overhead smash from the net on the left service box.
Roddick's delivery had put Federer in a defensive position. But with the ball bouncing high, the Swiss had enough time to run yards behind the baseline and position himself for a smash.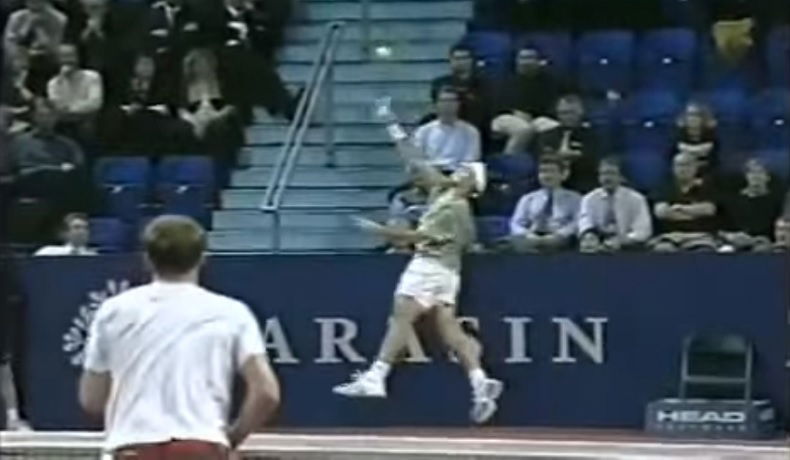 By getting under the ball on time, Federer leaped a bit, made perfect contact with the ball and smashed it. And consequently, he produced one of the most incredible overhead smashes in tennis. The tennis ball dropped adjacent to the left sideline and Roddick could just see the ball passing beside him. Everyone in the stadium including Roddick was dumbstruck by the then-22-year-old Federer.
The 2003 US Open champion Roddick was a bit irked. As a friendly gesture, he threw his racquet on Federer and later embraced him on coming up with an insane smash against a smash. 
The spellbinding attack by Roger Federer is considered to be one of the most impossible shots ever produced by the Swiss great.
Federer vs Roddick: Wimbledon 2009 finals
Roger Federer and Andy Roddick are one of the most celebrated rivalries of the sport. They have locked horns 24 times and put up some enthralling matches for the tennis audience. The Swiss legend has won 21 times against Roddick. They have met each other four times at Wimbledon, and Federer holds a 100 percent winning rate at the grass-court major against Roddick.  
You may also like – Roger Federer's Logo – Origins And Controversy
One of the notable matches of the tennis history was their Wimbledon 2009 finals. A total of 30 games were played in the final set and it lasted for 95 minutes.
Roddick just lost a service game in the entire match, which a crucial one in the fifth set, and with that loss, Federer won 5–7, 7–6(8-6), 7–6(7-5), 3–6, 16–14 and lifted his sixth Wimbledon title.