WATCH: When Roger Federer Used Science To Correct The Chair Umpire's Error
Published 05/25/2020, 1:53 PM EDT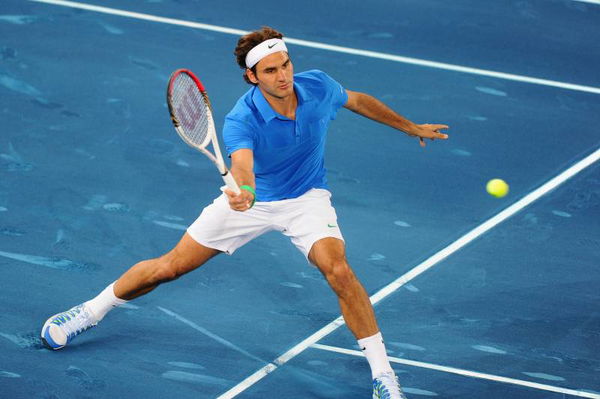 If you've been on the tennis court for as long as Roger Federer, you obviously learn nuances that most don't know about at all. That's certainly a quality that Roger has mastered over the years.
This is the reason why his word often holds more value than the chair umpire. Add to it the fact that he rarely creates any fuss without reason during a match. One such incident happened during the Madrid Open of 2012.
It was a time when the novel concept of the blue clay courts was being tried out. Federer met his arch-rival Tomas Berdych in the finals. The second set saw an interesting reaction from Roger Federer as he uncharacteristically challenged the umpire.
ADVERTISEMENT
Article continues below this ad
Know More – "It's The Kids Making Me Crazy" – Roger Federer
https://www.youtube.com/watch?v=8ofNg0y8w60&feature=youtu.be
Why did Roger Federer challenge the umpire?
Roger Federer and Tomas Berdych were engaged in a pretty intense rally. In the midst of this, Federer hit a beautiful drop shot.
While it seemed that Berdych would not be able to reach, he ran amazingly well to reach the ball. However, as the ball reached Federer, it visibly took him by surprise. This led to a pretty weak return which was easily played off for a winner by Berdych.
ADVERTISEMENT
Article continues below this ad
Federer complained to the umpire that the ball had initially reached him after bouncing off the court on Berdych's side. This meant that it first touched the ground, then his racquet, and then the ground again before reaching Roger. His reason was a scientific one. When the ball reached him, it came towards him with topspin even when Berdych had hit a flat shot.
WATCH – Roger Federer Accidentally Reveals He's Still Practising Hard
ADVERTISEMENT
Article continues below this ad
This was not possible until and unless the ball was either double bounced or deflected off the ground first. The topspin was why it dipped before coming to Roger and bounced more than it should have. This foiled his plan which would have been expecting a volley. The Hawkeye showed that Federer was correct as the crowd got loud. It was just a testimony to his understanding of the game of tennis.
Eventually, Roger would win the match by a margin of 3-6, 7-5, 7-5 to win the Madrid Open. His fans would get another reason to celebrate. The match would still be remembered for this masterful piece of intellect which was displayed by Roger Federer.