WATCH: Zlatan Ibrahimovic Has a Typical Moment in the Match against Colorado Rapids
Published 09/13/2019, 7:26 AM EDT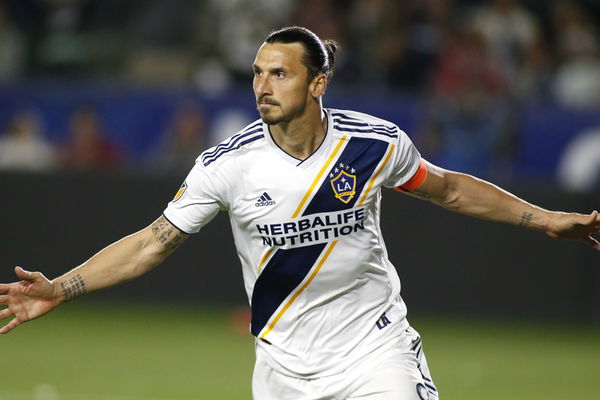 ---
---
Zlatan Ibrahimovic did another Zlatan Ibrahimovic in LA Galaxy's match against Colorado Rapids on Tuesday.
ADVERTISEMENT
Article continues below this ad
Few fans left their seats and came onto the ground, running in the direction of the Swedish star. One fan, frantically running, slipped right in front of Ibrahimovic. Another kept running  around him for as long as he could, escaping from the security personnel. Amidst all the halter-skelter, the 6 feet five inch former Barcelona forward seemed unfeathered. He kept walking in a manner that he usually would. A video of the "typical Zlatan" incident came out on social media that was good enough to bring a smile.
ADVERTISEMENT
Article continues below this ad
The match between the Rapids and LA Galaxy seemed short of action until the 79th minute. It was goalless until that moment, and ended with three goals in it. In what turned out to be a dramatic six minute period, after which the score read 2-1 in favour of the Rapids.
ADVERTISEMENT
Article continues below this ad
The Rapids took a 1-0 lead in the 79th minute when Cole Bassett scored his second goal of the season from a header off a free kick. LA Galaxy leveled the score after three minutes later, another headed goal from Giancarlo Gonzalez. In the 85th minute, Mezquida scored his fourth goal of the season from the spot after Andre Shinyashiki was fouled in the penalty area by the Galaxy's Emil Cuello.
In the match, Ibrahimovic, 37, was notably playing alongside a player who is 20 years younger and almost a foot shorter to him. 17-year old  Efrain Alvarez, son of Mexican immigrants, had signed a professional MLS contract at the age of 15, and is one of the most exciting talents in America.
Even Alvarez felt Ibrahimovic was "cool". "(Zlatan) is such a cool guy," Alvarez told ESPN FC. "Since I met him the first day, he always wanted to help me. I met him and he started giving me advice, and once you hear advice from him, you want to learn. He knows what it takes.
ADVERTISEMENT
Article continues below this ad
"He even said, 'If you need help, I'll help you; I just want the best for you. I know the potential you have, so I'm coming to help you; I'm not coming to hurt you or damage you. Other players, I kill them, but with you I see potential, so I'm trying to help you.'"