Watch:Ben Askren's 'Son' Confronts Jorge Masvidal During UFC 246 Media Day
Published 01/16/2020, 6:29 PM EST
By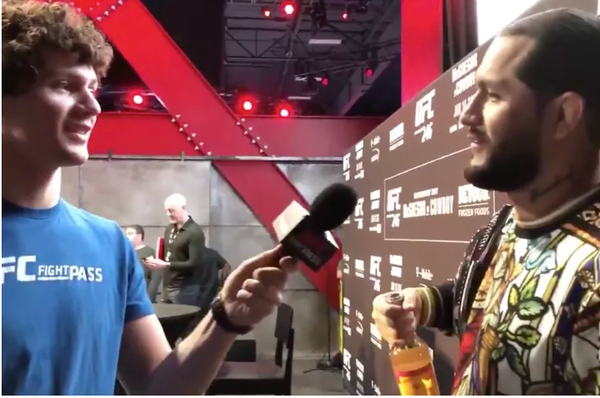 Jorge Masvidal has been baptizing his opponents ever since he has made his come back. And Ben Askren was a victim of the baptism when he fought Masvidal.
ADVERTISEMENT
Article continues below this ad
Ben Askren came into UFC with a lot of hype and expectations behind him. He was a world champion at two different organizations before he stepped into the UFC octagon. However, after the controversial win over Robbie Lawler, Askren squared off against Jorge Masvidal, which tarnished his unbeaten record.
Jorge Masvidal knocked out Ben Askren in 5 seconds and put an end to the streak and the hype of Askren. The Funky One would then lose to Demian Maia after a tough battle and retire from the sport afterward. Even if Askren was hoping to face Masvidal in a rematch that fight could not take place.
ADVERTISEMENT
Article continues below this ad
However, recently Ben Askren's 'son', Chase Hooper confronted Jorge Masvidal and asked him "Why did you do that to my dad?"
Well, Jorge Masvidal was clueless about the situation and asked Hooper who his dad was. When Chase Hooper replied Ben Askren, Masvidal said he did not mean to do that to his 'Dad'. This happened during the media scrum for UFC 246.
ADVERTISEMENT
Article continues below this ad
ADVERTISEMENT
Article continues below this ad
Well, Chase Hooper made his UFC debut on UFC 245 and impressively won the fight. And it's needless to say that he is not the son of Ben Askren. However, the prank on Masvidal did make the Street Jesus laugh.
Masvidal made one thing very clear in the media scrum. He is choosing the Conor McGregor fight over the title fight against Kamaru Usman. Jorge Masvidal has already issued a warning to Conor McGregor that he is going to baptize him if they fight. However, whether Conor McGregor chooses the Masvidal fight over the title fights at welterweight and lightweight, it would be interesting to see.