"We Are Not Planning to Boycott": Novak Djokovic Reiterates the Need of New Association in Tennis
Published 09/05/2020, 11:42 AM EDT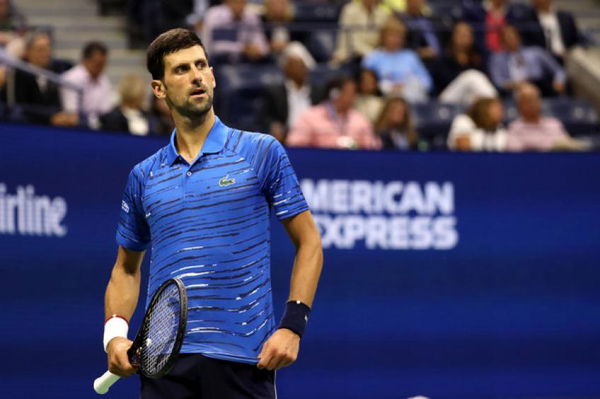 Recently, Novak Djokovic and Vasek Pospisil shook the tennis world with their proposal to form a Professional Tennis Players Association (PTPA). There were many who backed this, but there were a lot who criticized it. To convince those critics, the Serb has just elaborated on the purpose of the association.
From 60+ in Saturday's photo, the PTPA apparently now has the support of some 150 players. (There are ~190 men playing at the #USOpen.) Their initial membership goal is to involve the ATP's top 500 singles & top 200 doubles players. pic.twitter.com/aJWWiMxdqd

— Ana Mitrić (@ana_mitric) September 4, 2020
ADVERTISEMENT
Article continues below this ad
Some players who criticized Novak's proposal were Rafael Nadal and Roger Federer. They felt that right now, the world needs to be united and not divided. The Serb addressed these concerns as he said,
"By forming this players' association, we are not in combating mood of any kind, against anyone. We are not planning to boycott, we are not planning to have parallel tours or something like that. What we want is a more unified player voice and just more magnified player voice.
"ATP of course has been and still is the governing body of our Tour to which we belong as members. But ATP is divided between the tournament and players. So, we are actually one of the few global sports that does not have a player-only association."
The Serb said that he is not doing anything new, as players like Andy Roddick had the same idea. He is just trying to accomplish what they couldn't and there 150 players who hope that he will.
US Open 2020: Novak Djokovic
ADVERTISEMENT
Article continues below this ad
While the PTPA is very important to the Serb, right now, his focus is on something else – the US Open. Like any player, he wants to win the event, but this time, he has another reason to do it.
By winning the event this year, the Serb will tighten the race to one of the biggest records in tennis – the Most Grand Slams. That is one of his biggest goals and he will take another step towards it when he plays Pablo Carreno Busta in the fourth Round.
ADVERTISEMENT
Article continues below this ad
Read: "I've Spoken to Serena Williams": Novak Djokovic Discusses New Players' Association With WTA Stars