"We Should Not Even Know the Meaning of 'Racism'" – Roger Federer's Coach
Published 06/05/2020, 6:35 AM EDT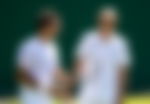 ---
---
Very recently, George Floyd, an African-American, suffered a tragic death at the hands of a white police officer. When people heard about this, they were furious and started a movement against racial discrimination. Many athletes including tennis players have spoken in support of this cause. And now Ivan Ljubicic who coaches Roger Federer has done the same. Check out what he said.
ADVERTISEMENT
Article continues below this ad
What did Roger Federer's Coach Say?
ADVERTISEMENT
Article continues below this ad
After reading about what happened to George Floyd and the protests that followed, Ivan Ljubicic took to Twitter to share his views. He said,
"We should not even know the meaning of the word 'racism' or 'genocide'. It's just unbelievable that in 2020 we still talk about this. And that we still have people that think that we are not all the same."
While Ivan has spoken out, we have not seen Roger Federer talk about this. He did join many other athletes on BlackoutTuesday but he has not officially said anything. Since many athletes have spoken out, it's surprising that Roger Federer hasn't said whether he supports the protests or is against it.
Some of the athletes who have spoken against the protests are Rafael Nadal and John Isner. They did make it clear that they were against racism and wanted justice for George Floyd. But they did not like how violent the protests have gotten with a lot of property being damaged.
ADVERTISEMENT
Article continues below this ad
Isner went a step further by saying that everyone who is involved in the protests must be arrested or in his own words, "arrest these anarchist losers". This statement was obviously not received well by many people who criticized Isner for saying something like this.
Throughout these protests, we have seen many people raise their voice either to support the protest or criticize how people are protesting. And we can expect more people to do the same.
ADVERTISEMENT
Article continues below this ad