We will be licking our lips: Starc
Published 07/27/2015, 1:31 PM EDT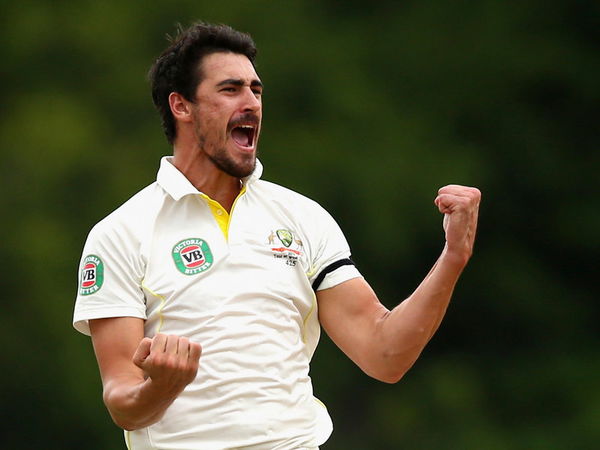 ---
---
As The Edgbaston test draws closer, no one is more geared for it than the Australian pace ace Mitchell Starc.
ADVERTISEMENT
Article continues below this ad
The speedster openly challenged the English groundsmen to prepare a seaming track, for the all important third test of the ongoing Ashes. The English batsmen were all at sea in the previous test match at Lord's against the pace trio of Mitchell Johnson, Mitchell Starc and Josh Hazelwood. As a consequence Gary Ballance has been dropped from the upcoming test, and the English batting order too is open for changes.
"We'll be licking our lips. Don't worry," said a rejuvenated Starc. "They're not really sure what they want to do now. Some of their team want batting-friendly wickets and that hasn't helped them at Lord's," he added.
ADVERTISEMENT
Article continues below this ad
"They want to get their bowlers back in the game, but we've got the pace as well," said the world's premier fast bowler. "So I think as Mitchell said, maybe last week, it doesn't matter what they dish up. We've got all bases covered, we've just got to adjust to the conditions the quickest", he added.
"They're searching for some form after Lord's and have made a change with Gary Ballance out. They've brought in Jonny, who has scored a lot of runs in county cricket this year so far. Whenever you make the opposition make changes, it shows you're on top. It's about staying there and really pushing that home this week." added the 25 year old.
ADVERTISEMENT
Article continues below this ad
Starc has been in phenomenal form for the last one year and has also guided the Aussies to the World Cup win at home earlier this year. However, once the Ashes began, Starc faced the brunt of injuries and had to be injected to play in the first test at Cardiff, but as of now the speedster seems to be raring to go.
"I don't actually know. You'd have to ask the medical guys. All I know is it was quite sore. I got through that week in Cardiff and it felt a lot better at Lord's. Miles better than what it was. So hopefully it keeps getting better and hopefully it's gone this week."
"It was on the inside this time, not the outside. So there's no spurs there, as people have said or written about. No spurs there at the moment. I'm sure they will probably come back one day, but at the moment I think it's just bone on bone. The cortisone is going to help that and hopefully get me through the rest of the tour." said Starc on being asked about the injury.
ADVERTISEMENT
Article continues below this ad
"Coming from that scan, knowing there was nothing wrong with the bone or the joint. It's just going through the pain, it's nothing new for fast bowlers to push through the pain," he said. "If Ryan Harris can get through a broken knee to try and get right for the Ashes, I can get a little bit of ankle pain to get through.
"Pain is part and parcel of fast bowling, as you progress through your years of bowling you start to learn what you can and can't get through. As far as I was concerned, I knew there was nothing wrong with the joint so just push on," Starc concluded.