"We'll start our own rival game!" – Eddie Hearn Warns EA Sports
Published 04/12/2020, 2:08 PM EDT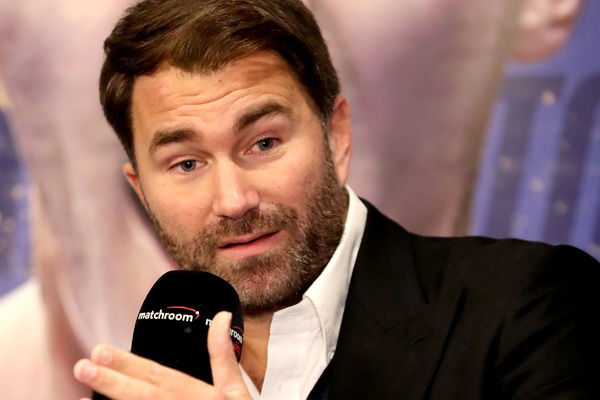 ---
---
EA Sports have designed a fair share of sports games over the years. Eddie Hearn is a sporting event promoter from Britain who has been in talks with EA for quite some time now. On an Instagram live session, Hearn discussed the possibilities of developing a game that is entirely meant dedicated to boxing.
ADVERTISEMENT
Article continues below this ad
ADVERTISEMENT
Article continues below this ad
A new fight night game was definitely under things-to-be-considered, both on EA's and Hearn's plan sheet. However, without a proper timeline or a target, proceeding with these things gets complicated. It seems Hearn has decided to go at it alone. How would he be funding it? Well, he thinks that Prince Khalid would be kind enough. 
Are EA Actually Planning To Go For Another Edition Of Fight Night?
While it is difficult to determine, the situation seems bleak. EA doesn't seem to be in a rush with another edition of Fight Night. As it is EA will be releasing their UFC game by the end of this year. Eddie Hearn was indeed involved in talks with EA. On March 27 he came out with an Instagram live where he answered few questions about Fight Night.

ADVERTISEMENT
Article continues below this ad
According to Hearn, he had discussed the possibility of a return for Fight Night over a call. He said, "every time I mention Fight Night on social media it goes mad. The return of EA sports Fight Night would be huge". This post received several suggestions where the gaming community actually expressed their desires, like an in-depth career mode. So it is certain that there was something on the cards, but would they be played yet?
ADVERTISEMENT
Article continues below this ad
Can Hearn Do It On His Own?
Legally, that might be impossible, but you never know. Prince Khalid and Hearn were heavily involved in arranging boxing fights, and they have a brilliant working relationship. However, designing a game is a different ball game altogether. With EA's UFC online and the WWE games being launched by a rival company, the chances are slight. Any game developer would want the proper resources before starting.
Find out more about what's up in UFC, click here.
However, this is a 50-50 situation, Hearn has a reputation for delivering and this might be the best news for Fight Night fans.