Wenger hails unsung Giroud's half-ton after "fantastic" week
Published 12/14/2015, 11:03 AM EST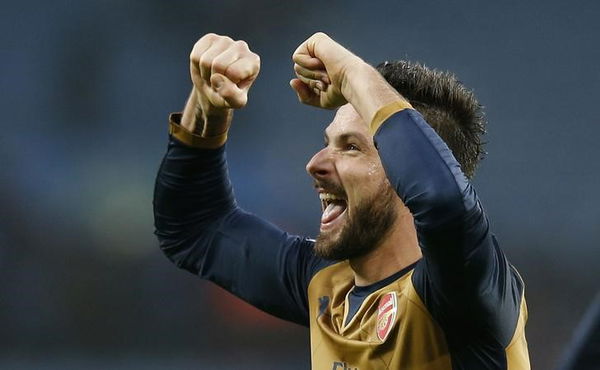 ---
---
LONDON (Reuters) – Olivier Giroud says he plans to keep hitting the target in Arsenal's increasingly convincing Premier League title push after his "fantastic" week concluded on Sunday with another goal that helped the Gunners back to the top of the table.
ADVERTISEMENT
Article continues below this ad
The oft-maligned Frenchman, hailed by manager Arsene Wenger in the week as one of the deadliest marksman in Europe, received another hymn of praise from his manager after his early goal from the penalty spot in Arsenal's 2-0 win at Aston Villa.
It was his 50th Premier League goal, a landmark which Giroud has reached in fewer games for the club than all but Arsenal titans Thierry Henry and Ian Wright.
ADVERTISEMENT
Article continues below this ad
Following his midweek hat-trick against Olympiakos Piraeus which kept Arsenal's Champions League hopes burning, Giroud's latest contribution prompted Wenger to tell reporters the 29-year-old was in his pomp — and still improving.
"I believe he is at the top of his game and he is questioned sometimes," Wenger said. "Finally, the numbers get people to realise he is a good player. He has improved, his link play is better and when we have the option for a long ball he is a very interesting option.
"(He doesn't get much praise) because he does not have electric pace. He is more of a player who plays with his back to goal and brings other people in, so maybe he is spectacular individually with his runs without the ball.
"He is very efficient and a very important player for the team. He is also mentally very strong."
Giroud himself, whose early strike was later doubled by Aaron Ramsey's delightful breakaway team goal, was thrilled by his personal milestone.
ADVERTISEMENT
Article continues below this ad
"I'm pleased with that (the 50 goals) and I don't want to stop here," Giroud told the club's official website(www.arsenal.com). "It was a really good day. It is a fantastic week. We're in a great position to challenge for the title.
"We did a great job in the Champions League and we really wanted to finish the week with a win to be top of league before Leicester's game against Chelsea."
Leicester, currently one point behind alongside Manchester City, can go back to the top if they beat Chelsea on Monday before Arsenal and Manchester City, the two favourites for the title according to British bookmakers, meet at the Emirates Stadium on Dec. 21.
ADVERTISEMENT
Article continues below this ad
(Reporting by Ian Chadband; editing by Toby Davis)