What are the Top 5 Helmet Designs of Sebastian Vettel
Published 03/22/2020, 7:03 PM EDT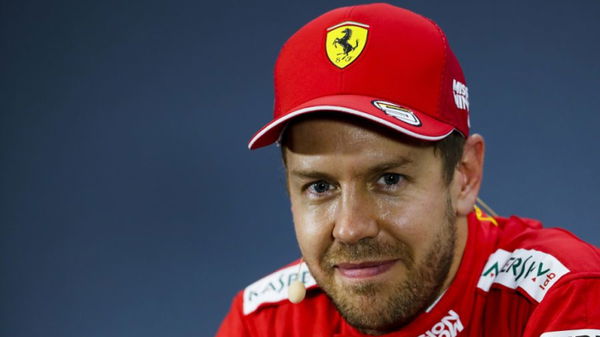 ---
---
Back in the day, Sebastian Vettel became well-known for changing his helmet at the drop of a hat. It got to a stage where the FIA had to ban drivers from changing their helmets too many times. His helmet-changing habits got cultivated during his championship years with Red Bull.
ADVERTISEMENT
Article continues below this ad
He and helmet painting masters Jens Munser Designs often wheeled out a new design at seemingly every race. In 2011, he used a 16 different designs during the season.
Even when the helmet change ban was enforced from 2015 to 2019 he found a way to skirt around that. The German driver even came up with interesting one-offs. However, what are the 5 Best Sebastian Vettel helmet designs?
ADVERTISEMENT
Article continues below this ad
2011 Korean Grand Prix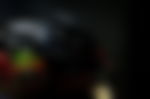 In Korea, Sebastian Vettel opted for the simple dark blue with gold accents on this design. It even had two gold stars on top to signify his two championships at the time. Unfortunately, it made a solitary appearance because Vettel won the Korean GP while wearing it. In those days, Vettel has a policy of 'retiring' any helmets he won races with.
2012 Singapore Grand Prix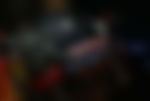 The specialty of this helmet is only revealed when night falls, which explains its Singapore GP debut. A bunch of LEDs were positioned on the top and hooked up to a small battery encased within the helmet. This caused them to flash for the entirety of the race. Unfortunately, the FIA banned the use of lights and batteries on helmets from the next race onwards.
2012 United States Grand Prix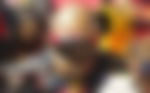 During the 2012 US Grand Prix, Vettel decided to get experimental with his helmet designs. This time, his helmet looked like it was made out of wood.
2013 Bahrain Grand Prix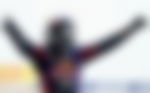 ADVERTISEMENT
Article continues below this ad
In October 2012, the Red Bull Stratos project saw Felix Baumgartner jump out of a balloon from a height of 24 miles in the air. Vettel clearly wanted to pay tribute to that incredible feat and at the start of the 2013 season, Vettel's helmet resembled the pressurised helmet that Baumgartner used.
2013 Monaco Grand Prix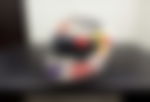 ADVERTISEMENT
Article continues below this ad
If there's one race where you'd expect to see some flashy one-off helmets, it's Monaco. Sebastian Vettel and JMD really knocked it out of the park in 2013. The off-white base and classic script are cool enough, but then there are the classic images on the top:
The real stand-out feature was on the back, however. At first glance, it just looks like a standard 1950s pin-up girl. The German then took an NSFW route where her clothes were made from special paint. It went transparent when the temperature changed. So basically, when Seb's helmet became hot, the woman became naked.