What Does President Trump's Ban on Tencent Mean for Fortnite and League of Legends?
Published 08/07/2020, 8:17 AM EDT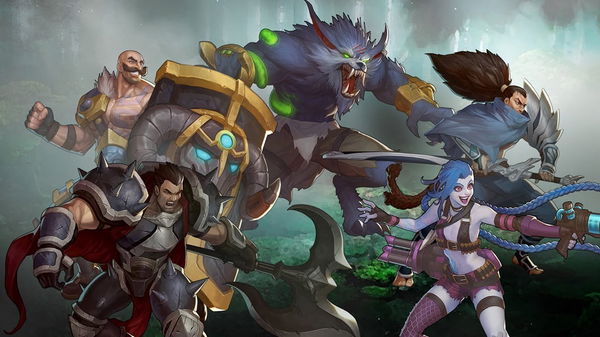 ---
---
US President Donald Trump's recent move to ban business with Chinese giant Tencent Holdings has rocked the global markets. According to his directives, if WeChat's US operations are not sold to a US company by September, it will be banned in the country. This announcement caused Tencent's shares to plunge by 10%. But this ban on Tencent also proves to be a threat to the gaming industry in the US. This mainly concerns games like Fortnite, League of Legends, Valorant, and PUBG mobile. Confused? Let's take a look at how this works.
ADVERTISEMENT
Article continues below this ad
As reported by CNN Buisness,
"Tencent is also the world's largest gaming company by revenue, according to market research firm Newzoo. Tencent has published several popular mobile and video games, and it also owns US-based Riot Games, has a majority stake in Supercell, and smaller stakes in other international gaming companies such as Epic (EPOR) and Activision Blizzard (ATVI), among others, according to Bernstein analyst David Dai."
ADVERTISEMENT
Article continues below this ad
Trump's decision may affect the League of Legends, Fortnite, and Valorant
Riot Games is the creator of one of the biggest eSports titles in the world, League of Legends. It had a $6.4 million prize pool at the World Championships in 2018. That is an insane amount of money. Epic is the creator of the largely popular BR game Fortnite and Tencent owns part of it too.
Another game that is in the mix here is Valorant, a recent FPS title by Riot Games. The game has grown in popularity since its launch and has the potential to be a huge eSport.
Tencent's app a threat to national security
So how exactly does Trump's decision affect these games? For now, it doesn't. The decision to ban Tencent was limited to its WeChat app. Another big announcement came when the Administration decided to ban the ByteDance app, Tik-Tok. These two apps allegedly pose a threat to national security and user data and hence prompted the government to take action.
ADVERTISEMENT
Article continues below this ad
This may give a little breathing space to the gaming industry but do not get your hopes up. These Chinese companies have still not made a decision to sell their US-based businesses. According to CNN, a Chinese Ministry spokesperson said "The United States is using national security as an excuse and using state power to oppress non-American businesses."
It is clear that there will be some retaliation from China as well but the nature of it is still to be determined.
Tencent also operates PUBG Mobile, which is reportedly ranked 10 in the US, in terms of consumer spending. If things do not go well, the company may decide to pull out its gaming operations from the US, which could be absolutely devastating. Can you imagine not being able to play/make purchases in LoL, Valorant or PUBG? The fun part of these games aside, they are some of the biggest eSports in the States. A lot of careers will be affected based on what comes next.
ADVERTISEMENT
Article continues below this ad
For now, people can rest easy knowing none of this is targeted towards the gaming industry. The next 45 days will be pivotal in determining the fate of Tencent in the US.
Source: CNN Business