What Is the Story Behind the Iconic Usain Bolt Victory Pose?
Published 10/03/2021, 2:47 PM EDT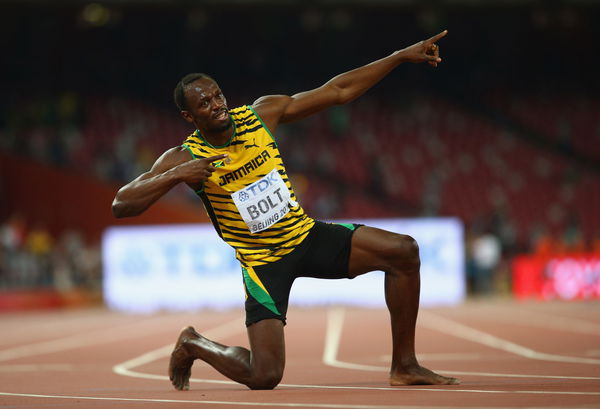 ---
---
Usain Bolt, also known as 'Lightning Bolt', is the fastest recorded sprinter on the planet. The 8-time Olympic gold medalist is the only sprinter to win Olympic 100m and 200m titles at 3 consecutive Olympics (2008, 2012, and 2016). Whenever Bolt has won, he has celebrated with his iconic victory pose, which is hard to miss!
ADVERTISEMENT
Article continues below this ad
It was his double sprint victory at the 2008 Beijing Olympics that made him renowned worldwide. He celebrated this big win of his by introducing the world with his signature move the "To Di World" pose. Over the years, with the numerous accolades he has won and records he has set, the celebration has become famous worldwide.
ADVERTISEMENT
Article continues below this ad
"To Di World" – Usain Bolt Victory Style
Usain Bolt's "To Di World" is also known as 'Bolting'. It involves leaning back and pointing both index fingers towards the sky with the right arm cocked and the left stretched out.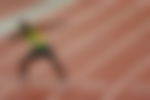 The origin of his signature move is a shockingly simple one. The gesture is inspired by a Jamaican dancehall move popular in 2008. It makes sense because apparently Bolt loves Dancehall.
"One day me and my friend were talking," Bolt said. "I was like, 'Yo, imagine if I did this' and he was like, 'Ya that would be pretty cool.' So, I just did it and kept the name. It works and people loved it, so it's brilliant."
Bolt was happy about the fact that his move was being used by people all over the world. The famous Brazilian soccer star Neymar, Prince Harry of the United Kingdom, and President Obama have used it as well.
"Everybody I meet, they know what it is, and they always try to do it or they always try to get me to do it," he added. "It's been wonderful. It really took off around the world."
Although the Jamaican former sprinter retired in 2017, his legacy, including the "To Di World" pose, has made its place in our hearts.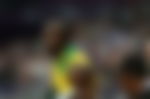 Bolt eliminates the thought of a comeback
Usain Bolt, the 8-time Olympic medalist, has ruled out the idea to return to sports. The 2016 Rio Games was the last time we saw him at the Olympics. He decided to end his journey as a sportsperson after the 2017 World Championships.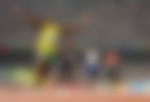 Although he has no plans to come back, he did admit that he still has the "itch".
ADVERTISEMENT
Article continues below this ad
"It's too late. If I were to come back, it would have been for this Olympics." He said in an interview to the BCC. "When I told my coach I was going to retire, he sat down and said, 'When you retire, that's it. I'm not on a comeback tour, I'm not doing anything. So, make sure you are ready to retire'."
"I remember going to him in 2019 and saying,' What do you think about coming back to the Olympics?' And he looked at me and said, 'Don't start.' So, if it's not my coach, I'm not going to do it. Because I believe in him and if he says no, it's no! But I have that itch." 
ADVERTISEMENT
Article continues below this ad
Bolt's charismatic personality is as much of a factor in his GOAT status as his incredible ability. He gave the world a truly iconic celebration, as well as plently of world records.
WATCH NOW: 'Anything I do, I want to be the best': Usain Bolt