Where is Aldridge heading this off-season?
Published 07/03/2015, 2:36 PM EDT
By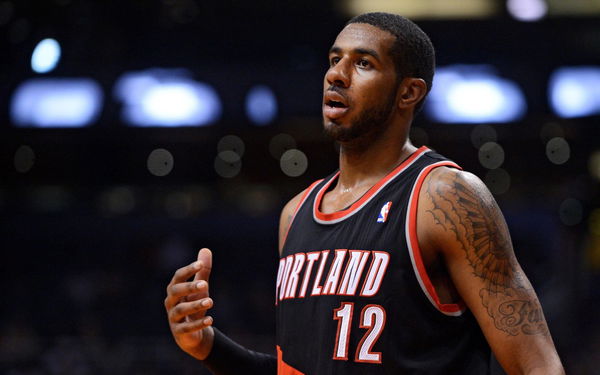 After running down his 5 year conract with the Portland TrailBlazers, it seems that the 30-year old LaMarcus Aldridge has decided to move on. Though nothing is official yet, his agent announced earlier today that the TrailBlazers have lost him, despite teammate Damian Lillard saying he is going to fly to Los Angeles (Aldridge is there currently) to convince him to stay in Portland.
As expected, the power forward is sought after by a plethora of teams including the LA Lakers, San Antonio Spurs, Phoenix Suns, Miami Heat and the New York Knicks. Realistically, the Miami Heat doesn't have the cap space to afford him a max contract and Aldridge cancelled his meeting with the Knicks reportedly because they wanted him to play as a Center. This makes it a 3 way race between the Lakers, Spurs and Suns who all have the cap space to sign him.
Aldridge was drafted as the second overall pick in the 2006 draft by the Chicago Bulls and immediately traded to Portland in exchange for their pick, Tyrus Thomas and Victor Khyrapa. The 4-time All-Star scheduled a second meeting with the Lakers on Thursday afternoon after it was reported that their first pitch to him did not have the desired effect.
The Phoenix Suns entered the race after signing Center, Tyson Chandler on a four-year deal and trading 3 of their players to clear cap space which will be required to bring in Aldridge.
The Spurs will definitely be title contenders if Aldridge decides to sign with them, but their future is not the brightest after the 2015-16 season, as the famous trio of Tim Duncan, Manu Ginobli and Tony Parker are ageing and might not return. All 3 teams offer something different and it will certainly be interesting to see how things unfold and where LaMarcus Aldridge plays next season.