Who are Tyron Woodley's Coaches and Training Partners?
Published 03/27/2021, 7:05 AM EDT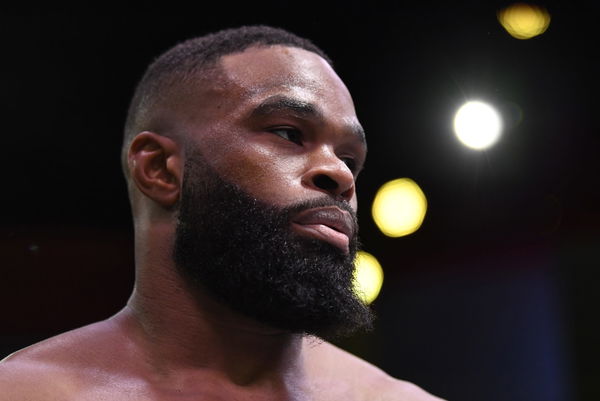 ---
---
Tyron Woodley aka 'The Chosen One' is all set to take on Vicente Luque at UFC 260. The former UFC welterweight champion has lost his last three fights, and now he is training hard to end his losing streak.
ADVERTISEMENT
Article continues below this ad
'The Chosen One's head coach, Din Thomas, has a lot of coaching experience as he has trained many UFC fighters. Currently, he is working hard to prepare Woodley physically and mentally to end his slump. Thomas was one of the primary coaches at the American Top Team from 2015 to 2020, and was behind Woodley's rise to the top of the division.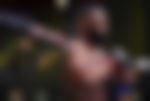 In 2020, Thomas departed from ATT to groom other UFC fighters who he couldn't while he was affiliated with ATT. However, he has remained by 'The Chosen One's side. 
ADVERTISEMENT
Article continues below this ad
Daryl Cobb has been Woodley's training partner throughout his training camp for his fight at UFC 260. Former Maximum Fighting Championship Lightweight Champion, Antonio McKee, is also helping Woodley ahead of his UFC 260 co-main event appearance. 
Eric Brown is the boxing coach for Woodley's training camp for UFC 260. Brown has been in his corner for a long time and guided him to his submission win against Darren Till at UFC 228.
Read: "I Wanted to be Michael Jordan"- When Daniel Cormier Opened up on Having an NBA Career
"The Chosen One" Tyron Woodley trains with Francis Ngannou
While an interview with Helen Yee Sports last month, Woodley revealed he had done some training with 'The Predator'. 'The Chosen One' claimed that Ngannou's sheer strength blew him away. 
Woodley said, "I was just in a gym with Ngannou and he was working on some single leg takedowns. He like grabbed his leg and his strength and his power…He didn't even really quite grasp it and I noticed how f***k**g strong he is."
ADVERTISEMENT
Article continues below this ad
While describing how it felt like training with Ngannou, he said, "I don't know what I would do against him because I never felt nobody just put that much pressure on my face and make me feel like my nose is gonna break". 
Din Thomas has been alongside Woodley for a long time. He is doing everything he can to end his losing streak along with the boxing coach, Eric Brown, McKee, and longtime training partner, Daryl Cobb.
It remains to be seen whether the efforts of the aforementioned men help Woodley quell the rising contender and restore his glory at 170 pounds.
ADVERTISEMENT
Article continues below this ad
Read: Ben Askren Believes Colby Covington Should Have Got Title Shot Ahead of Jorge Masvidal