Who is Antonio Brown's Girlfriend, Chelsie Kyriss?
Published 10/05/2019, 10:55 AM EDT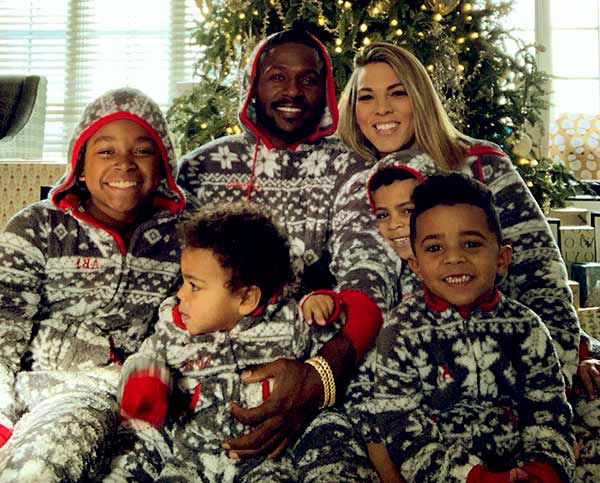 ---
---
Antonio Brown has been the story of NFL in 2019. He has been the centre of football news since joining Oakland Raiders after eight years at Pittsburgh Steelers. He has had problems since then. It all started with Brown missing training session at his new club. Then he threatened to retire when NFL made their new helmets mandatory. After a few more issues, he moved to the New England Patriots without playing a game for the Raiders. But his stay with the Patriots stretched just 11 days. After playing one game in the Patriots jersey, the club were forced to release him after a lawsuit was filed on him, for raping a woman on three occasions. He was, a few days later, once again accused of having done something similar to another woman. For a man with such a background with woman, Antonio Brown does not have a wife as yet, but lives with his girlfriend Chelsie Kyriss.
ADVERTISEMENT
Article continues below this ad
Who is Chelsie Kyriss?
Chelsie Kyriss have been reported to be with Antonio Brown throughout his controversial career. She is known to have been friends with the wives of Brown's co-players. They might have broke up in the middle, but the couple seems to be living a happy life, in spite of the recent sexual allegations on Brown.
ADVERTISEMENT
Article continues below this ad
Kyriss is a mother of three children, born to the couple- the pictures of whom are visible quite a number of times on the social media profiles of both Brown and Kyriss.
Their first child, Autonomy was born in 2014. A year later, she gave birth to Ali and the couple welcomed their youngest son, Apollo, on August 1, 2017.
There was period in 2018, when the couple had a major period away from each other when Kyriss was supposed to be pregnant with their third child. During that period, Brown took to Instagram to post on his girlfriend with whom he had broke up.
The post, which was deleted once the couple reconciled read: "With all due respects any friends who consider @chelsie a friend should honestly help her vastly! She has two older kids Kellen Green 9; Brooklyn Green 7; she hasn't seen or claimed in 4 years running around chasing me!" Brown wrote. "Her Mom Lynn Kyriss and Todd Kyriss cannot get ahold of her In regards of holding her accountable to her kids her family! Let's not the internet confuse people upon her responsibility to her kids! I ask that if you are her friend encourage her to take care all her kids not just mine and be a woman we know she capable of! So we clear she's my baby mama!"
Antonio Brown Kids-
Apart from three kids with Chelsie Kyriss, Brown has two more children from previous relatioships. In all, Brown is a proud father of four sons and a daughter.
"Kids are amazing," Brown had told NFL Network. "I got four sons and one daughter. They imitate everything that they see daddy doing. I'm in the gym and they're in the gym copying all my moves."
Brown has also previously said that he was not looking at football as a career for his children.
ADVERTISEMENT
Article continues below this ad
"Nah, don't follow me playing football — that's not what they need to do," Brown told Steelers Wire. "I wouldn't discourage them from playing, but I would tell them the facts. There's a lot of things in the game that is not healthy. Obviously, I know how to work around those things, but the game is crazy right now. I wouldn't advise my kids to play. Hopefully, I'll work hard enough and make a lot of money so they don't have to play and I could see them be successful in other things and support them through."
ADVERTISEMENT
Article continues below this ad
Brown's life might have been filled with controversies, but he has always been supported by Chelsie Kyriss, who has been nothing less than Antonio Brown's wife.Her love is for Brown is clearly visible on Kyriss's Instagram, where there are multiple posts of the couple as well as their children
For being a girlfriend of such a high profile player, Kyriss has always maintained a low profile, both in the society as well as social media.