Who is Britta Roeske: The Press Relations Manager of Sebastian Vettel
Published 12/14/2019, 7:52 AM EST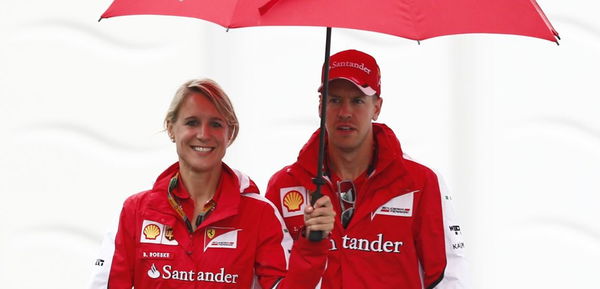 ---
---
Every Formula One driver has a press relations manager who accompanies them during media sessions. Their primary duty is to mediate between the driver and the press and they help make all the right noises. For Ferrari driver Sebastian Vettel, German PR manager Britta Roeske handles a lot of his media duties.
ADVERTISEMENT
Article continues below this ad
She has been with the 4-time world champion for more than a decade. Roeske hails from West Germany and studied economics, modern languages and journalism, before moving to France. Her career kicked off when she was recruited by Renault as a trainee in the communications department.
After meeting the then Renault F1 team boss Flavio Briatore, he invited her to work for the team. She confessed that she took the job straight off the bat and has had no regrets since then.
ADVERTISEMENT
Article continues below this ad
In 2005, she joined the newly-formed Red Bull Racing Formula One team and was a part of the team that worked with Sebastian Vettel. Interestingly, long after she left Red Bull, Roeske is still on good terms with the team.
Admittedly, while her job is to handle the media duties of Sebastian Vettel, Britta Roeske is a bit camera-shy herself. Another thing that sets her apart from the other press managers, is that she is employed by Sebastian Vettel directly, and not by the Ferrari team. Normally, the team employs a press officer and allots them to their respective driver, noted paddock photographer – Kym Illman explains.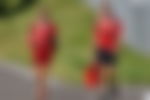 While under the employment of Sebastian Vettel, she spends most of her day on her phone, arranging interviews. It is also crucial to mention that Thursdays during the race weekend is a particularly busy time. Britta Roeske has also taken a page out of Sebastian Vettel's book, as she also does not have a personal social media account.
On some occasions, she often goes to the grandstands to act as crowd control and give Sebastian Vettel a personal buffer between him and the fans, in case of unruliness. Roeske is also quite popular among the Vettel fans, and they show it in the best manner possible.
Since Sebastian Vettel does not have a personal manager, Roeske also takes on that role to an extent. It is her job to support Vettel and pepping him up during difficult periods and taking care of his brand image.
ADVERTISEMENT
Article continues below this ad
She is also usually present in the media rooms if Vettel has a press conference to attend. Even when she is not listening to him talk, she is busy scheduling future interviews. Speaking to Australian photographer, Kym Illman, she admitted that like Vettel, she too is traveling for much of the season.
While in the media pen with Vettel, not only does she record his interviews, she helps schedule whom he will speak to next. Interestingly, although Roeske is employed by Vettel, she works in tandem with the other Ferrari PR managers and the Ferrari head of communications.
For her, the real test of her skills is during controversial moments, like the infamous 2013 Malaysian Grand Prix saga. Even during moments of success, like his maiden championship in 2010, she also has a very difficult time.
ADVERTISEMENT
Article continues below this ad