Who is Fabio Fognini's Wife, Flavia Pennetta?
Published 12/24/2019, 3:04 AM CST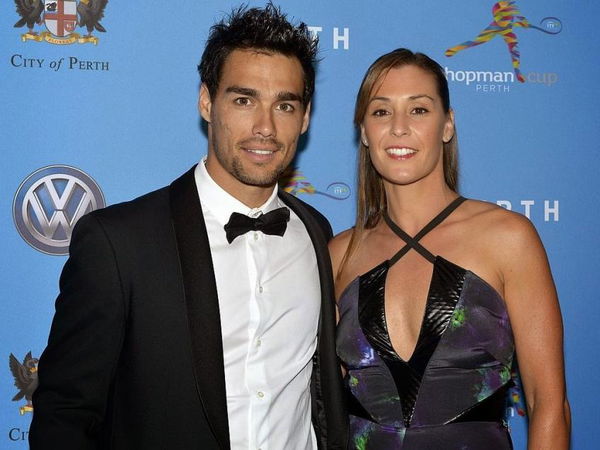 ---
---
On June 16, 2016, Italian tennis player Fabio Fognini married another Italian tennis Flavia Pennetta. They were already together by then and decided to marry a year after Pennetta's retirement from professional Tennis.
ADVERTISEMENT
Article continues below this ad
Here is all that we know about Fabio Fognini's wfe Flavia Pennetta.
Who is Flavia Pennetta?
ADVERTISEMENT
Article continues below this ad
Pennetta is Italy's first top-ten female singles player and the first Italian to be ranked world No. 1 in doubles on 28 February 2011. She was a part of the first all-Italian Grand Slam final in the 2015 US Open and won the tournament by defeating her childhood friend Roberta Vinci.
Pennetta has ten other WTA singles titles. Her achievements in doubles title include winning the 2010 WTA Finals and the 2011 Australian Open with partner Gisela Dulko, and reaching the 2005 and 2014 US Open finals, partnering with Elena Dementieva and Martina Hingis respectively.
After winning the 2015 US Open, Pennetta announced she would retire at the end of the season. She then earned a spot in the WTA Finals for the first time, which enabled her to retired with a top-ten ranking.
on 24 January 2007, Pennetta was pronounced a Knight of Order of Merit of the Republic by the then President of Italy.
Pennetta began dating ATP tennis player Fabio Fognini in 2014. The duo got in 2015. In June, 2016, Pennetta and Fognini married each other in Ostuni. Six months later, on December 15, 2016, the couple announced that Pennetta was pregnant with their first child. Pennetta gave birth to a baby boy on 19 May 2017, naming him Federico.
Fabio Fognini and Flavia Pennetta- How it all started?
In an interview to Il Corriere Della Sera, Flavia Pennetta explained how her romantic relationship with Fabio Fognini started. They kissed each other for the first time in 2014, then they got married in 2016 and in 2017 they became parents of a son called Federico.
"The truth is that time to time we look each other in our faces and we ask ourselves: how did it happen? We always have had a very nice relationship, made of laughs, advice, open chats on tennis and private life. A lot of decisions in our careers were taken after speaking to each other.
ADVERTISEMENT
Article continues below this ad
"Once we ended our respective relationships, being disappointed, we sat down again to speak. There was always honesty between us. It was Fabio to give me the worst news in my life: the death of our friend Federico Luzzi in 2008."
ADVERTISEMENT
Article continues below this ad
"And it was him to tell me that my former girlfriend Carlos Moya was expecting a son from his girlfriend", said Pennetta. Fognini said she got inspired by the 2015 US Open winner's successes as well from the other Italian players: "There was never a competition between the girls, they were very good, real champions, four Fed Cups can't be won by chance."