Who is Frances Tiafoe's Girlfriend, Ayan Broomfield?
Published 12/24/2019, 10:39 AM EST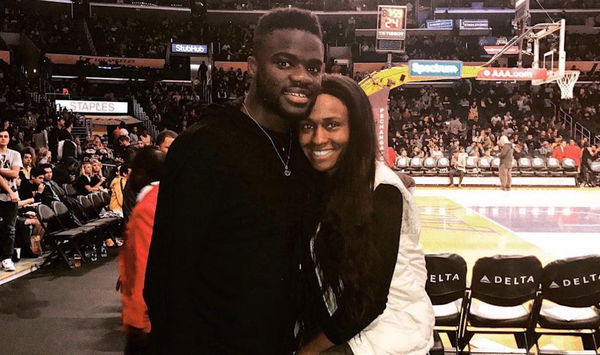 ---
---
American tennis player Frances Tiafoe has been dating fellow tennis player Ayan Broomfield for a while now. They are seen supporting each other during a few of their matches.
ADVERTISEMENT
Article continues below this ad
Here is all that we know about Frances Tiafoe's girlfriend, Ayan Broomfield.
Who is Ayan Broomfield?
ADVERTISEMENT
Article continues below this ad
Ayan Broomfield was born in Toronto, Ontario on August 13, 1997. She is, like her boyfriend, a professional tennis player.
Broomfield made her WTA Tour debut at the 2014 Coupe Banque Nationale with a wildcard partnered Maria Patrascu into the doubles tournament. She was a part of the Clemson University tennis team from January 2016 to May 2017. She is now playing for the UCLA Bruins. On May 25, 2019, she won the 2019 NCAA tennis doubles championship for UCLA with teammate Gabby Andrews.
Broomfield has won two doubles titles on the ITF tour in her career. 2015 was her best year when she reached her best singles ranking as well as her best doubles rankings.
Broomfield also has a short documentary made on her, named "Ayan Broomfield Tennis Story," which premiered on Amazon Prime Video.
Tiafoe revealed how he met Broomfield-
Frances Tiafoe had once revealed how the love story with his girlfriend Ayan Broomfield started.
ADVERTISEMENT
Article continues below this ad
As quoted by Tennis world USA, Tiafoe said that a friend named Vickie Duval encouraged him to date during the 2015 US Open. Tiafoe then used Instagram to message her and ask for her phone number.
"I was like, okay, well, the US Open is coming soon," Tiafoe went on to tell about his messages. "You're (Broomfield) Canadian. Surely you came with your family or what not. She dodged it and tried to play hard to get, whatever, whatever. And then she eventually came in the end. She watched me play."
Tiafoe then met Broomfield's family before they actually started dating, and when they actually started dating, it was on FaceTime and not directly.
ADVERTISEMENT
Article continues below this ad
"I actually did it over FaceTime. I didn't even do it in person. I'm not even going to lie. I was tight. I was tight. She said yes. She had a long pause and then said yes. And then that's — yeah, the story goes on," he said.