Who is LeBron James's Wife Savannah James?
Published 10/23/2019, 1:09 PM EDT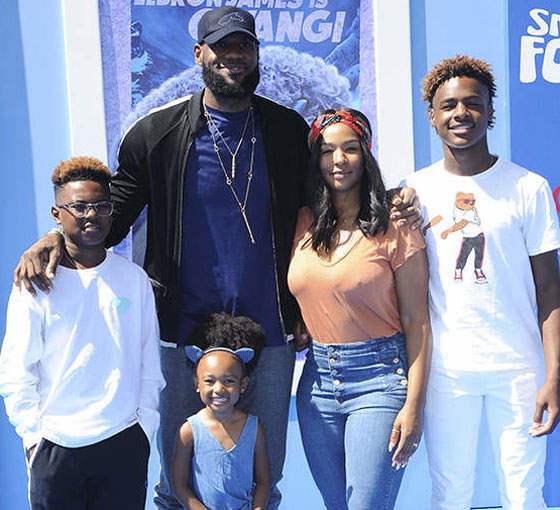 ---
---
LeBron James, regarded as one of the all-time greats on the Basketball court, has a good life off it too. LeBron James's wife has always given him good support allowing him to become the great that he is. Together since high school, LeBron James and Savannah Brinson married in 2013 and have always been a great couple.
ADVERTISEMENT
Article continues below this ad
Who is Savannah James?
ADVERTISEMENT
Article continues below this ad
Savannah James or Savannah Brinson (as she was known before marriage), was born to Jennifer and JK Brinson on August 27, 1986, in Akron, Ohio.
After an interview with Savannah James, the Cleveland Magazine said that she was not just another wife of a basketball superstar and there was much more to her.
Savannah has always been a woman of significant philanthropic interests. She grew with these interests because of her family, which had always shared such beliefs. Her ideology was met with much-needed resources when she partnered LeBron James, who according to her was extremely supportive.
"He's super, super passionate about his philanthropic endeavors," she had told Cleveland magazine of her other half. "He's super, super passionate about his athletic abilities, doing everything he needs to do to stay in tip-top shape to make sure that he can help his team do what they need to do on the court. I just try to mirror that drive in everything that I do."
When did LeBron James & Savannah meet for the first time?
The couple had actually met for the first time in high school. LeBron was a 17-year-old high school sportsman, when he saw Savannah Brinson as a 16-year-old cheerleading in one of the rival team's camps. Talking about their first talk in the interview two years ago, Savannah recalled o calling him when she was bored.
Since then, they have always been together. In 2011, LeBron James proposed to his longtime girlfriend at a New Year's Eve party and two years later, in September, they tied the knot in San Diego in front of around 200 guests.
ADVERTISEMENT
Article continues below this ad
LeBron James Children-
The couple has 3 kids- two sons and a daughter. LeBron's first big moment with Savannah coincided with one of the biggest moments in his professional career. In 2003, when he was the first overall pick by the Cleveland Cavaliers in the NBA Draft, Savannah was pregnant for the first time. In 2004, they gave birth to Bronny James. Three years later, they welcomed their second son, named Bryce Maximus before their daughter, Zhuri, was born in 2014.
For self-proclaimed "King" LeBron James, Savannah James has always been a worthy "queen" and the queen has always given the highest regard for the king.
ADVERTISEMENT
Article continues below this ad
"He is truly a king to his queen, if you will," she told. "He treats me with so much respect — I mean, it's hard to not love him, with the way that he is with me and the kids and his mom and just everyone who's around him. He's a really, really humble guy for everything that he has and everything that he's done."
This just shows how King James is a champion at maintaining personal relations as he is in keeping business relations. All hail King James!