Who Is Valkyrae's Sister KC? Is She a Streamer?
Published 11/24/2021, 9:37 AM EST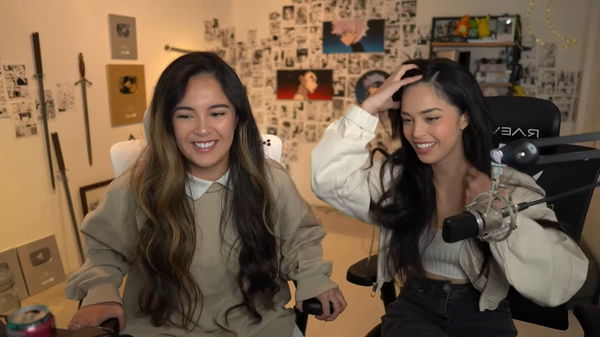 ---
---
Over the years, we have seen many siblings in the online content creation community strive for greatness together. While America has seen the rise of the Paul brothers in Jake and Logan, the UK has had KSI and Deji as well. Other than that, many creators rarely showcase their personal side, which has included close relatives and friends. However, popular streamer Valkyrae brought in a special guest recently in none other than her sister, KC.
ADVERTISEMENT
Article continues below this ad
Valkyrae has spoken about her family in her streams and posts on social media platforms. However, the arrival of her sibling in KC was rather unexpected when she randomly dropped in on her stream yesterday. So who's KC and is she a content creator like her sister as well?
ADVERTISEMENT
Article continues below this ad
Does Valkyrae have a sister?
Yes, Valkyrae has earlier mentioned that she has a sister named KC. However, this is the first time in a while that she has ever appeared in one of her streams. Yesterday, to the surprise of her legions of fans, Valkyrae, and her sibling had a pretty caffeine-filled energetic chat with them. While they didn't play any popular games, fans loved seeing the bubbly interaction the siblings had with each other.
Not much is known about KC, as Valkyrae has rarely mentioned her in detail. However, her Instagram bio suggests that she's a Gamma Phi Beta Alumni at Eastern Washington University. Moreover, her affiliations with RDH and BDSH suggest that she's pursued her career in the world of Dental Hygiene.
Unlike her popular sister, who has over 3.5 million subscribers on YouTube, KC doesn't have a YouTube channel.
Has KC featured in prior streams?
KC's appearance yesterday wasn't the first time she has ever shown up in her sister's stream. She has appeared in a prior video, where she attempted to try her hand at Fortnite. However, her performance was rather lackluster compared to her sibling, who played it almost every day at that time. During the stream yesterday, they took part in a lot of fun activities, including applying makeup on each other's faces. Fans loved seeing the two draw face-paintings of Jujutsu Kaisen character Sukuna on each other.
ADVERTISEMENT
Article continues below this ad
Along with that, they also shared a hilarious moment together when both of them stood up to check their heights. Most of Valkyrae's fans knew that she stood at 5 ft 3 in tall. However, Valkyrae may have tried to make her sister lie about her own height after she towered over her when they stood up.
ADVERTISEMENT
Article continues below this ad
In the end, Valkyrae had some endearing moments with her sibling in KC during her stream appearance. While we might not know when she will return again, fans would love to see the siblings do more unboxing and face-painting on each other.
WATCH THIS STORY- Toughest Video Game Bosses of All Time