Why Are Warriors' Steph Curry and Klay Thompson Popular as the 'Splash Brothers'?
Published 09/05/2021, 1:34 AM EDT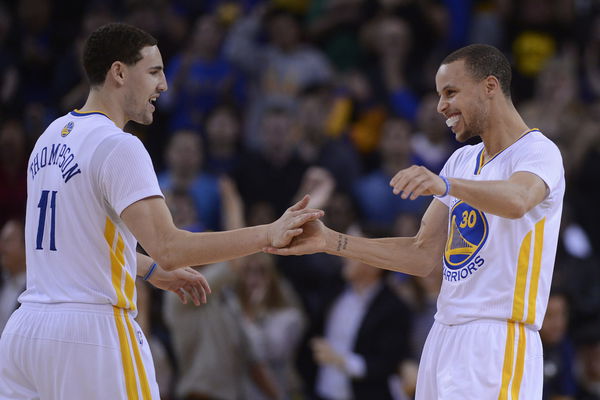 ---
---
The NBA loves its duos and almost every team houses a star pairing. But if there is one duo that took the last decade by storm, it is that of Steph Curry and Klay Thompson. The Warriors benefited big time with the camaraderie of these two names that together changed the face of the league forever.
ADVERTISEMENT
Article continues below this ad
Now, the impenetrable offensive wall of Warriors owns a moniker. They're together called the 'Splash Brothers' and this tag is as popular as it gets. But this is where a curiosity kicks in; why that name?
ADVERTISEMENT
Article continues below this ad
The origination of Warriors' Splash Brothers
Believe it or not, the easy-to-remember and world-famous nickname sprouted in the mind of a sportswriter. Back in 2012, on December 21, the Warriors played Michael Jordan's Charlotte Bobcats in a match few cared much about. That night, the GSW's star duo dropped seven three-pointers by halftime. 
So a beat writer for Warriors.com, Brian Witt, tweeted with hashtag #SplashBrothers and the fans picked it. Brian was referring to the splash sound the duo creates whenever they find the hoop. 
That night, Curry dropped eight daggers in his 27 while the duo combined for 12 three-pointers and 47 points. The Warriors won 115-100 and a new term took birth. In Witt's own proud words, "It's my claim to fame. It's something no one can take away. It's proof I lived on this earth that I created 'The Splash Brothers'".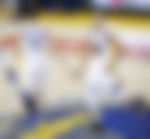 Even the Baby Faced Assassin had acknowledged it, saying, "It's pretty accurate. I don't think we've called each other that ever, but it's fun".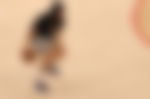 The combined records of Steph Curry & Klay Thompson
ADVERTISEMENT
Article continues below this ad
In 2016, the same year when the Splash Brothers enjoyed a record-setting 73-9 season, they made one more record. As their March 14 win game against the Pelicans completed, their duo got home a crazy record. 
With 16 games remaining in that season, the Warriors' two gems combined for 531 made threes. That was the highest number of three-pointers by teammates in a single season. Also, take a look at this game where they combined for 71 points and dropped 15 three-pointers – 
ADVERTISEMENT
Article continues below this ad
The same 2015-16 season was Klay Thompson's personal best with long-range shooting. The star shooting guard converted a career-high 3.5 3Ps at 42.5% shooting and averaged over 22 ppg that season. On the other hand, Steph almost touched his career-high accuracy at 45.4% from beyond the arc.
Watch this story – Steph Curry Pouring Ice Over Klay Thompson, LeBron James Goofing Around, and Other ROFL Worthy NBA Moments