Why does Lakers' Star Anthony Davis Wear #3 on His Jersey?
Published 07/27/2020, 11:00 AM EDT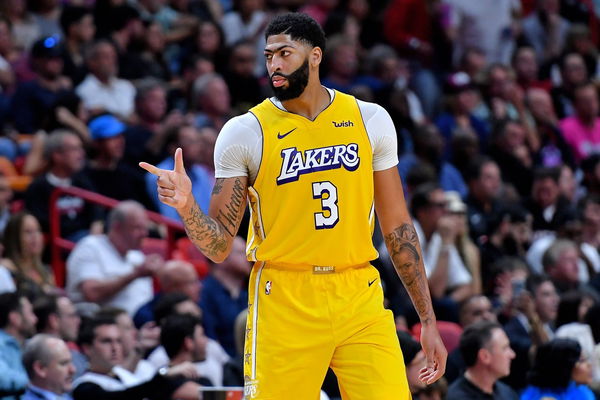 ---
---
Jersey numbers hold a lot of importance to players. They are not just numbers but a sense of identification for them. They consider it very important to choose the right number that represents them as an individual. Lets have a look at why Anthony Davis switched from No. 23 to No. 3
ADVERTISEMENT
Article continues below this ad
In the summer of 2019, the former New Orleans Pelicans star made a move to the Los Angeles Lakers. Lebron James, Davis' new teammate, wanted to welcome him with a gift. Davis has a long history with the number '23'. He has worn the No. 23 Jersey all the way from his years in high school.
Anthony Davis' history with No. 23
ADVERTISEMENT
Article continues below this ad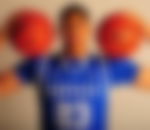 The No. 23 has proven to be extremely lucky for Anthony Davis. He won the National Championship at the University of Kentucky in his freshman year. Followed by a selection in the then- New Orleans Hornets in the 2012 NBA Draft. Throughout the 7 years that he has had 23, he became the league's block leader thrice, managed to score over 11,000 points and even awarded 6 All-Star selection. The list goes on. His emotional attachment to the No. 23 is the reason Lebron offered him his own Jersey with the No. 23.
The pair even ended up making a post on social media in order to announce the official trade. However, Nike did not let the exchange take place. There was a 15th March deadline to be adhered to in case a request for a Jersey number change had to be done. Since this was not followed, Nike did not allow them to go through with it.  They believed that if the switch is made, the unused No. 23 James' Jersey's will cause a major Financial hit, as told by a source to ESPN.
Davis' Brand New No. 3
The beginning of Davis' New Journey with the Los Angeles Lakers will be with Jersey No. 3. It looked like NBA 2K helped Anthony come to his decision of choosing the No. 3. He even went on Instagram and announced it with a post.
"Honestly," Davis told Jimmy Kimmel this week, "I just chose No. 3 — I went on '2K,' the video game .. so I'm literally in my living room, on the video game, going to myself, 'Edit Player,' and I'm going through all the numbers."
"It was my elementary school number — first number I ever played basketball in," he said. "I saw No. 3, and I was like, this takes me back to elementary school where it all started."
However, despite taking the change in his stride, Davis was not very pleased with the switch.
"We went to dinner, the first time we went to dinner since the trade happened, and (LeBron) was, like, 'Man, look, here's 23,'" Davis recalled. "I was like, 'Oh, wow, thank you, LeBron.'… (But Nike said) 'we don't care who you guys are; that's too much money.' So I was a little hurt."
Whether he will finally make the switch in the 2020-21 season, is still under speculation.
Catch Davis' conversation with Jimmy Kimmel below:
ADVERTISEMENT
Article continues below this ad
youtube.com/watch?v=DwcyT2nqOUI
ADVERTISEMENT
Article continues below this ad