"Why I Have to Retire": Khabib Nurmagomedov Shuts Down Media ahead of UFC 242
Published 09/06/2019, 1:41 PM EDT
By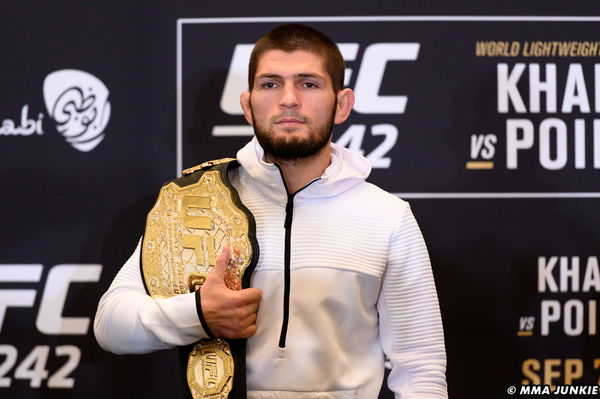 Khabib Nurmagomedov has cemented his legacy as one of the greatest mixed martial artists to step into the UFC octagon. If he overcomes his toughest challenge yet, Dustin Poirier in UFC 242 then it will just add another achievement to his highly decorated resume.
However, he has been on the top of his game since the beginning. He has been into the octagon with 27 opponents in his MMA career and has dominated all of them. At this point, many even believe that there is no fighter in the lightweight division to beat Khabib Nurmagomedov and rightfully so. The lightweight champion has been doing it for a long time too.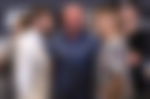 ADVERTISEMENT
Article continues below this ad
There were rumors of Nurmagomedov retiring during the Conor McGregor fight. Nurmagomedov's father once stated that the UFC champion has to take retirement sooner or later. Well, the question on Nurmagomedov 's went nowhere as he had to address that again on the media day of UFC 242.
When asked about retirement, the lightweight champion answered:
"Who said this, I am retired. I don't say this. I am the champion now, undefeated, undisputed. Why I have to retire."
ADVERTISEMENT
Article continues below this ad
Well, at least, for the time being, it's safe to say that Khabib Nurmagomedov is not going anywhere. He has claimed earlier to defend his lightweight title against former interim lightweight champion Tony Ferguson. Nurmagomedov has also shown interest in fighting George St Pierre too. Justin Gathje can be a challenge to him if he overcomes Poirier and Ferguson, and the McGregor rematch is always there on the table. So there are challenges ahead of Nurmagomedov and it doesn't seem age has affected his performance inside the octagon.
In his interview with ESPN, Nurmagomedov discussed his retirement plans and has said that:
"Of course I don't have a lot of fights ahead before [I retire]. I don't want to fight when I'm 40 years old, which is not my plan. We'll see. Before I make the decision, I have to talk with my father and I have to talk to coach Javier [Mendes], all my brothers, my management team Dominance MMA and with all people around me. I cannot make this decision alone."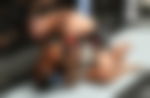 ADVERTISEMENT
Article continues below this ad
It's safe to say that Nurmagomedov is not looking forward to competing past his prime as he was the one who asked Cormier to retire. However, the 30-year-old UFC champion doesn't have any plan to hang up the gloves yet.
Khabib Nurmagomedov will be facing Dustin Poirier t defend the lightweight title in the main event of UFC 242 this weekend. Although Nurmagomedov has not named his next opponent yet, he strongly believes that Tony Ferguson is next in line for the title.