Will Shareef O'Neal Follow in His Father Shaquille O'Neal's Footsteps and Make It to the NBA?
Published 04/24/2021, 6:30 PM EDT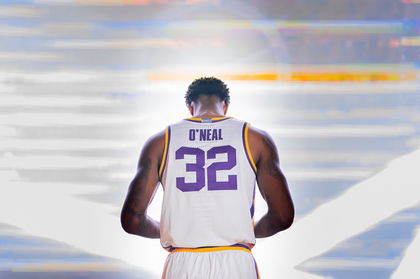 ---
---
The NBA has had a lot of father and son combinations over the years. For sons, the pressure is a lot higher when their fathers were top players. And in case of LSU Tigers' Shareef O'Neal, the pressure doesn't get any bigger.
ADVERTISEMENT
Article continues below this ad
Son of Hall of Famer Shaquille O'Neal, Shareef's basketball journey has already been arduous. After growing up with heart problems in 2018, O'Neal had to undergo an open heart surgery. That forced him to sit out his freshman season, and he had to slowly make his return while being monitored.
Finally he was cleared to play for the 2019-20 season, but he barely featured for the UCLA Bruins. He played 13 games, all off the bench, and averaged 10 minutes per game. So after just one season, he decided to transfer. He moved to his father's alma mater, the LSU Tigers, in hopes of better prospects.
ADVERTISEMENT
Article continues below this ad
O'Neal had a similar season, playing just 10 games off the bench, averaging 14 minutes per game. This season, he also suffered injury problems, which made it worse. He finished the season averaging 2.8 points and 4.4 rebounds per game while shooting just 37% from the field.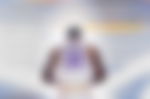 Shareef O'Neal needs to improve soon
Being the son of a Hall of Famer may be useful for college recruitment, but beyond that, O'Neal has to carve his own path. And so far, it isn't looking good for him.
He transferred to LSU with hopes to put behind his forgetful season at UCLA. But sadly that didn't go according to plan and he had a very similar season. After a medical redshirt in his first season, the 21-year-old is still a junior heading into the 2021-22 season. So he now has two more seasons to prove himself.
ADVERTISEMENT
Article continues below this ad
If he is unable to make the most out of these two years and improve, his chances of being drafted will diminish. He is already hanging by a thread, and a lack of improvement will close the door on his NBA dream.
O'Neal will have to find a new destination if he is unable to secure a bigger role this season. Fans are eager to see him succeed, especially after all he has been through. They will now be rooting for him to make a comeback and find his place in the NBA.
ADVERTISEMENT
Article continues below this ad