Wolfsburg star Andre Schurrle joins Borussia Dortmund
Published 07/22/2016, 9:17 AM EDT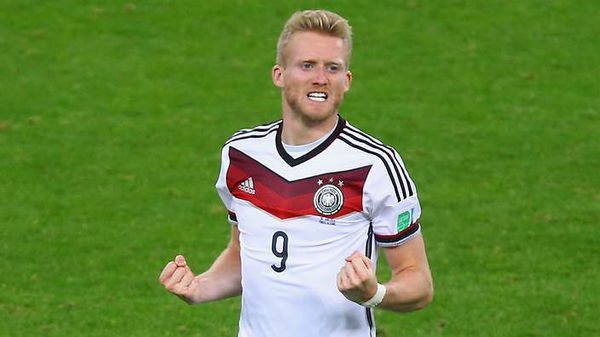 ---
---
Borussia Dortmund has made another outstanding deal in Andre Schurrle from their Bundesliga rivals Wolfsburg at an undisclosed amount.
ADVERTISEMENT
Article continues below this ad
It is understood that the German National winger has signed a 5-year contract with the club, becoming the eighth new signing of the summer for the black and yellows. This comes only one day after Mario Gotze was announced to be re-signed by the club from their title rivals Bayern Munich.
ADVERTISEMENT
Article continues below this ad
Andre Schurrle had been at Wolfsburg for little over 18 months after he had been deemed to be a superfluous player at the Chelsea squad, then managed by the present United manager, Jose Mourinho.
ADVERTISEMENT
Article continues below this ad
"Andre Schurrle is a Germany international with an outstanding attacking potential, who moreover is a good passer, and also plays a skilful part in the defence. He has a lot of international experience despite being only 25. His quality will be very valuable for our team. Our attack is now complete," said Michael Zorc, who is Dortmund's Sporting Director.
Having over 55 caps for the German National team, scoring 20 goals in the process. He also played over 29 games for Wolfsburg last season, scoring 9 goals and being a key player in their lineup. He has also played a major part of his career in the Bundesliga- starting at FC Mainz to Bayern Leverkusen before moving to Chelsea and back to Wolfsburg and now Borussia Dortmund.
The player provides an imposing position in the midfield and is yet another feather in the cap for the manager Thomas Tuchel, who seems to be having a Midas touch in the transfer market this season. With Schurrle having worked with the manager before while playing at Mainz, one can only expect good things.
ADVERTISEMENT
Article continues below this ad
According To Borussia Dortmund's official page, the player said – "Borussia Dortmund are one of the top European clubs with a strong and extremely exciting squad. From my own experience I know how much power BVB can develop with their fans and I am already looking forward to witness it not as wide-eyed opponent but as a part of it.
"I want to achieve great things with Borussia in the years to come and can't wait to start training and convince the people it was a good move to sign me."