Women's Soccer Legend Kelly Smith Retires
Published 01/12/2017, 12:18 PM EST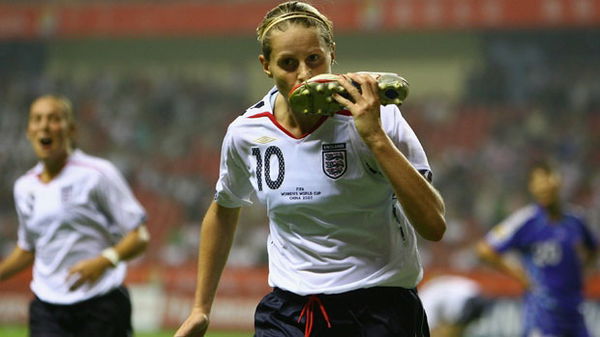 ---
---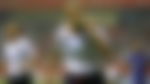 ADVERTISEMENT
Article continues below this ad
One of the biggest stars in football retired yesterday, but you may not have even heard her name. That's right I said her. That is because I am talking about Kelly Smith, one of the pioneers of professional women's football and one of the game's most exciting players. She leaves a black whole of talent and inspiration in the game, but has left us with so many great moments.
ADVERTISEMENT
Article continues below this ad
Smith retires as the all-time leading goal scorer for England's national team 8 of them coming in major tournaments. She was one of those rare English players who not only performed for her club side but also when she pulled on the three lions!
She was known for spectacular goals and was one of the few players in women's football capable of easily scoring from long range. One of her most famous goals came for England when she volleyed over the keeper from the halfway line. She was blessed with the talent of many male players and in the first half of her career outshone almost every other player with skill and power. Her goals often came with what became an iconic celebration. She took off the boot she scored with and kisses it.
Jacqui Oatley who is a commentator and analyst for the BBC in both men's and women's football vouched for her unrivalled impact on the game. ""Kelly played a huge role in getting people to recognise women's football as being entertainment, by getting their attention on television, she helped to get bums on seats. In the rare opportunities for England Women games to be on television, with lots of people watching the team for the first time."
Smith broke through milestones and set many records in her illustrious career. She became the first British player ever to become professional when she moves to America in 1999. She also started a surge of interest in betting on the sport, one that many betting tips sites have overlooked. The states have always been an anomaly in sports, just look at Ice Hockey, why is that popular! But in the states women could earn a living from the game they love. She joined New Jersey but played for both Philadelphia Charge and Boston Breakers with Arsenal interspersed.
ADVERTISEMENT
Article continues below this ad
Her Arsenal career was littered with trophies including 5 FA Cups. In fact, at the ripe old age of 36 she lifted the cup in her last final in 2016. Vik Akers, who is a legendary manager at Arsenal Ladies says of his former star "She was the one stand-out player, the best player for England Women ever. That's how iconic she is. We were fortunate to sign her. She scored so many memorable goals in so many memorable games."
ADVERTISEMENT
Article continues below this ad
Kelly Smith struggled with personal issues and injuries throughout her career but when she could get on the pitch she always managed to produce the goods. Her longevity was also admirable. She picked up Women's Player of the Year Award in 2015 at age of 36. She will be credited with introducing millions of girls to a sport they might have thought of as being for men only. Every sport needs a star to propel the sport into the mainstream. With women's football now boasting multiple professional leagues we will likely feel Kelly Smith's impact for many years to come.