World Championships: Men's Singles favourites
Published 07/30/2015, 10:50 AM EDT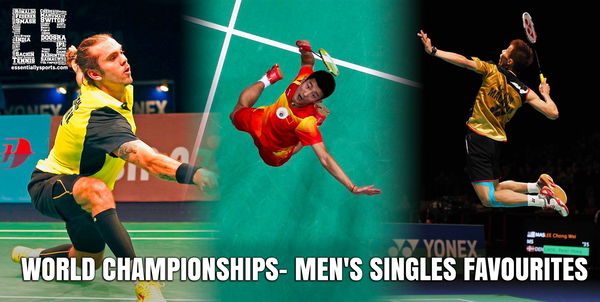 ---
---
The most keenly watched event of the BWF World Championships would be the Men's Singles event. With all top quality players in the fray, badminton at the highest level can be expected. There will be long, weary matches for every player from the word go. Motivation is high. Any let up in intensity will be punished. The smallest opportunity would be grabbed gleefully. No player, however talented, can afford lethargy. In such an intense field, favourites are hard to pick. Yet, there are a few who would fancy their chances more than anyone else. Essentially Sports picks out 5 of the players with the best chances. Mind you, the seedings are no indication as you will see.
ADVERTISEMENT
Article continues below this ad
Lin Dan
ADVERTISEMENT
Article continues below this ad
A World Championship in which Lin Dan has entered, one automatically expects him to win because the Chinese superstar has won it an unprecedented 5 times. Add to it the 2 Olympic Golds and a huge number of other titles and you'll be tempted to place all your money on him. But, since the time Super Dan has returned from a long break, he exactly set the court on fire. A few decent performances here and there, and disappointing ones otherwise. Dan, though, isn't an average shuttler. He is widely considered the greatest ever and for a good reason. He loves the big stage. So when the badminton wagon travels to Jakarta, expect some fireworks from this leftie.
Jan O Jorgensen
Jan O Jorgensen is Denmark's latest hope, who is aiming to get his first medal at the World Championships and emulate or better Peter Gade: a legend. And all he needs is a big break. There would be nothing better than this event to make it big and show the world that he deserves his World No.2 ranking. Jorgenson has all the talent to do it, just a bit of luck and some good temperament. The draw might not have been the best he hoped for, but he has at least avoided HS Prannoy: so many times his party pooper. With enough motivation to win it, if he stays in the right frame of mind for one week starting August 10, he will make history.
Kento Momota
Japan's biggest hopes rest on the 20-year-old Kento Momota. The 2012 World Junior Champion is a bundle of energy and can be highly unpredictable. Touted as the next Lin Dan because of their similar styles of play, Momota has improved by leaps and bounds. Starting the year at 13, he has risen to career best of World No.4 with the Indonesian Open in his kitty. The youngest Super Series champion has the momentum and the confidence to go all the way. And as the World Championships have often shown us, the best is brought out on its daunting stage.
Lee Chong Wei
ADVERTISEMENT
Article continues below this ad
Returning from the 9-month suspension for doping violations, Lee Chong Wei is looking to get his career and confidence back on track. He convincingly won the US and Canada Opens but when pitted against World No.1, Chen Long, at the Chinese Taipei, the Malaysian ran out of gas. After playing second-fiddle to arch rival Lin Dan for so long, Chong Wei would desperately want to win the World Championships. The two silver and one bronze he would gladly exchange for one memorable gold. Not just for the records, but also to aid his quest for Olympic 2016 qualification. Under pressure, "The Master" might just produce magic never seen before.
Chen Long
Like his female counterpart, Carolina Marin, Chen Long has had a stellar season. Four individual titles and a gold at the Sudirman Cup means Chen Long is the clear favourite going into the World Championships. Over the years, the Chinese has mastered every stroke and his accuracy is unmatched. Add to that a favourable draw and Chen Long is probably already counting his money. He does have a few party spoilers in his half and getting past them would be tricky. The World No.1 though has the rhythm, the fitness and the supreme confidence to defend his title. Stopping him would need something extremely special.
ADVERTISEMENT
Article continues below this ad