The gaming industry waited with bated breath today to finally see the PlayStation 5. It has been a long time coming and Sony has given us very little to hold on to until now. Today, however, they revealed 24 games coming on PS5 (not including a remastered GTA V). And, we finally got a glimpse of the next-gen console. Only a fraction of those games were PlayStation exclusives though, a fact one of the executives at Xbox was more than happy to point out.
Xbox executive's jibe at PlayStation 5
The PlayStation 5 reveal event was a middling affair for the millions who tuned in to watch. It had its share of surprises and games we were expecting to see. It had some absolute gems but also games that left us indifferent. We did get a glimpse of a few PlayStation exclusives, but many were also cross-platform titles. Xbox executive, Aaron Greenberg, was more than happy to piggyback off the PS5 event to do what he does best- a bit of marketing.
Greenberg, the marketing head of Xbox, congratulated Sony for their PlayStation 5 event. He did not stop there, taking a jestful jibe at PlayStation. He listed out a few games showcased on the event that would also run on Xbox Series X, calling it the "world's most powerful console."
Congrats to our friends at Sony on their show today. Xbox fans should know titles like GTA V, Resident Evil Village, Hitman 3, NBA 2K21, Pragmata, etc are going to look and play great on #XboxSeriesX the world's most powerful console. #PowerYourDreams #XGonGiveItToYa 💚🙅🏼‍♂️🔥

— Aaron Greenberg 🙅🏼‍♂️❎ (@aarongreenberg) June 11, 2020
Greenberg named games like GTA V, Resident Evil Village, Hitman 3, NBA 2K21, Pragmata as the games that would also be available on Xbox Series X.
Also Read– WATCH: All Games Revealed on PS5 Event
PlayStation 5 exclusives
Any jest or taunt made regarding the console war never goes down easy; fans of both consoles are as passionate as they come. While the Xbox community was gleeful about this, PlayStation fans were quick to point out the games that are exclusives.
In case you were wondering, check out the list below.
Exclusive's

✅Spider-Man Miles Morales
✅GT7
✅Ratchet & Clank: Rift Apart
✅Project Athia
✅Returnal
✅Sackboy A Big Adventure
✅Destrcution Allstars
✅Godfall
✅Demon's Souls Remake
✅Astro's Playroom
✅Horizon 2 Forbidden West#PlayStation5

— 👑King Blue👑 🇨🇦🇦🇬 (@King_Shadow89) June 11, 2020
Let me just point out here that Godfall is a timed exclusive. A year after its release, we expect it to make its way to Xbox as well.
Which console will rule the generation?
Getting back to the consoles, the debate is never truly going to die down. Reports earlier in the year suggested Xbox had the upper hand this time around. An ex-employee from Sony also commented on how this could be the generation when Xbox finally surpasses its arch-rival.
While the Xbox Series X does indeed boast of better elements certain hardware specs, the PlayStation is always a beast when it comes to performance. Check out a comprehensive comparison between the console specifications below.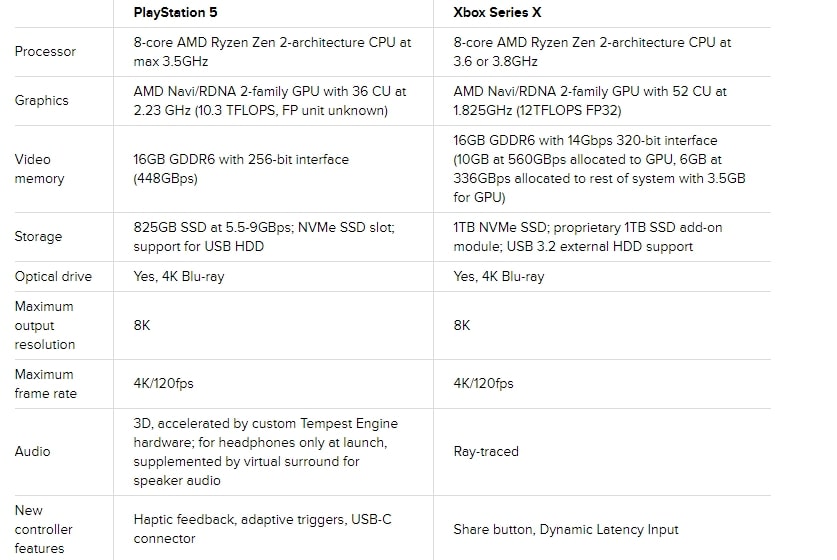 Again, any superiority on paper is just that, on paper. We expect both consoles to be spectacular in terms of performance, but only time will tell which one will reign supreme.