"Would you ask that if it was your son?" – Pittsburgh Steelers RB calls out Minneapolis Injustice
Published 05/28/2020, 6:26 PM EDT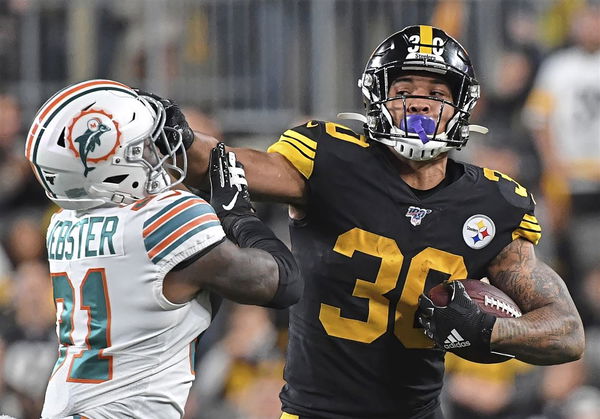 ---
---
The Pittsburgh Steelers running back James Conner recently tweeted about a disgusting act of police brutality. In a video that surfaced on the internet, an officer from the Minneapolis Police Department can be seen kneeling on the neck of an unarmed man. The man who was subjected to the brutality was reported to have died in police custody.
ADVERTISEMENT
Article continues below this ad
Calling Out the Despicable and Iniquitous Act
So sickening all he had to do was take his knee off his neck could've still been alive.. not trying to hear nothing else that's so crazy. RIP https://t.co/ZP5ZJBHi5O

— James Conner (@JamesConner_) May 27, 2020
ADVERTISEMENT
Article continues below this ad
Conner took to twitter to criticize the wrongful act of the Minneapolis Police Officer. The officers who were involved in the incident were responding to a call regarding an attempted forgery. George Floyd was apparently found intoxicated and physically resisted officers. A spokesperson for the Police Department also said that the officers noticed Floyd go into medical distress.
James, however, seems to be shocked by the incident. He believes Floyd could have been alive if the officer had just taken his knee off the man's neck. Bystanders tried telling the officer involved to stop kneeling on George's neck – "He's not even resisting arrest right now".
The tweet garnered many likes and replies. However, one peculiar reply caught James's attention – one by an account which goes by the name, 'Big Hate from Allison Park'. Conner was asked through the reply if he watched the entire ten-minute-long video about the incident or parts of it.
ADVERTISEMENT
Article continues below this ad
James of Conner of Pittsburgh Steelers gives Apt Reply
The reply seemed to suggest that everything that happened to George Floyd and his subsequent death was a consequence of his own doing. To this, Conner rightly replied, "would you ask that question if that was your son?"
ADVERTISEMENT
Article continues below this ad
The officers involved in the incident were dismissed from their jobs with the Mayor of Minneapolis demanding their prosecution. Floyd's death sparked a major protest in Minneapolis which soon became violent. In the video documenting the incident, George can be seen in distress and crying for help – "I can't breathe".
The Running Back is among many who are against the brutal act of the officers involved and truly is an inspiration. Last week, he announced that it has been four years since he was declared cancer-free. His cancer diagnosis did not stop him from achieving what he is today and a year after the diagnosis, he was back in college rushing 1000+ yards and 16 touchdowns.