WOW! Alexander Zverev Continues Winning Streak Against Rafael Nadal, Dismisses Him at Madrid Open 2021
Published 05/07/2021, 11:21 AM EDT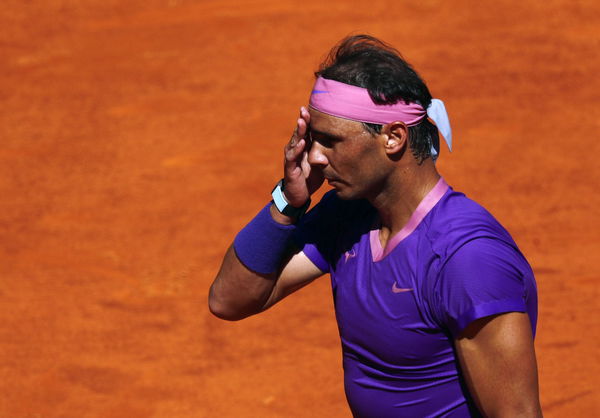 ---
---
Top seed Rafael Nadal was ousted from Mutua Madrid Open 2021 by Alexander Zverev in straight sets. Zverev stunned the Spanish crowd in Madrid to advance into the semifinal and will now play Dominic Thiem. This was Zverev's first clay-court victory over Nadal and third consecutive victory overall.
ADVERTISEMENT
Article continues below this ad
Alexander Zverev takes a dominant first set against Rafael Nadal
ADVERTISEMENT
Article continues below this ad
There was some trouble brewing early on as Nadal started the match. Zverev was clocking service speeds of up to 130 mph as Nadal struggled to keep up with the German. It was clear that Nadal's forehand was not lethal today, and Zverev looked to capitalize on that.
At 3-2, Zverev was over-committing himself on the forehand side. With the three breakpoints on offer to Nadal, Zverev lost his serve and Nadal led the set 4-2.
In the other game, as Zverev choked on his forehand, Nadal did the same. He barely was strong on his forehand, and thus, Zverev came back into the match to bring the serve parity at 4-3.
From 4-3, both the players saw breakpoints, but Zverev was more clinical. The German kept going to the forehand side of Nadal, which was leaking points.
At 4-4, Zverev came back from 30-0 down to break Nadal. The record winner in Madrid was clearly struggling, and Zverev was just sublime with his strokes.
From 4-2 down, Zverev made a strong return to take the opening set 6-4. Nadal had zero winners from his forehand and lost four games in a row from 4-2.
Zverev completes a stunning performance against Nadal at Madrid Open 2021
The opening game of the second set showed a glimmer of hope as Nadal made a strong start. Zverev performed multiple one-twos to finish the rallies early.
Zverev kept sending balls towards Nadal's forehand, which couldn't keep the ball in the court. At 1-1, Zverev saw first of his breakpoints saved as Nadal held his serve. Nadal tried everything from staying away from the baseline to coming to the net, but nothing was working.
Zverev's quick-fire tennis was leaving Nadal exposed. The Spaniard was again playing catch-up to the German.
Zverev bombarded big backhands towards Nadal's forehand. Nadal kept defending but cracked eventually. At 2-2, Nadal was broken and Zverev led 3-2.
ADVERTISEMENT
Article continues below this ad
At 4-2, Nadal was behind in 15-40. It was getting desperate for Nadal. He had the crowd's support but was in a precarious situation as Zverev looked to break a second time.
But a rare mistake from Zverev's forehand helped Nadal save his serve and stay in the match. Zverev didn't hesitate in taking risks and got a big hold later to put Nadal on the edge.
ADVERTISEMENT
Article continues below this ad
Zverev finally got a chance to serve for the match at 5-4. Nadal was a lot behind the baseline to counter Zverev's serve but couldn't change anything. At match point, the crowd was silent and Zverev stunned the out-of-sorts Nadal to pick up a 6-4, 6-4 victory.