WOW! Alize Cornet Saves a Match Point and Defeats Garbine Muguruza at WTA Berlin 2021
Published 06/18/2021, 10:41 AM EDT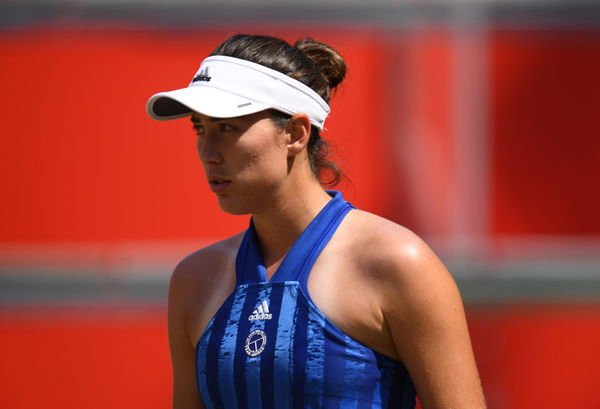 ---
---
Alize Cornet saved a match point and later won against Former World No.1 Garbine Muguruza in the quarterfinals of WTA Berlin 2021. Muguruza put in a valiant fight by saving four of the five match points but faltered at the end.
ADVERTISEMENT
Article continues below this ad
Strong first set from Garbine Muguruza
Muguruza was broken in the first service game itself. But she broke Cornet back in the next game to level the set 1-1. Then there were decent rallies. However, Muguruza was coming into the match. At 2-2, she broke Cornet and led 3-2. Later she extended her advantage to 4-2.
ADVERTISEMENT
Article continues below this ad
Alize Cornet had a minor blip, but she stayed closer to Garbine Muguruza. The set went on to 5-4 as Muguruza served for the set. And the Spaniard didn't hesitate and took the first set 6-4, as both the players were almost equal in unforced errors and winners.
Garbine Muguruza's suffers injury as Alize Cornet makes a comeback
At the start of the second set, Muguruza was visibly struggling. She lost her serve early on and stared at a 3-0 lead as Cornet increased her intensity. Muguruza then took a small break to treat her blisters as she looked to make a comeback. With the treatment, Muguruza looked focused, but couldn't penetrate Cornet's serve.
From 3-0, Muguruza tried her best to make a comeback. She slowly cut the deficit on her serve, 4-2. But Cornet was hardly pressured as she raced to a 5-2 lead. Later at 5-3, Cornet served for the second set and restored parity in the match, 6-3.
Alize Cornet saves a match point and takes the thriller third set
After the second set, Muguruza took an off-court medical timeout to treat a hamstring injury. But as the set started, Muguruza looked fine and comfortable. Both the players opened with a clean serve, 1-1. No one was playing risky tennis as break points were hard to find. The set reached a cagey spot at 3-3.
Muguruza seemed to have an injury, but hung on with Cornet. The Spaniard's movement was hampered, but she toiled. At 5-4, Muguruza took charge and hence saw a match point. However, Cornet saved it on her serve and extended the set. Later at 6-5, Cornet again was bothered by Muguruza. But the French player saved her serve to force a tiebreaker.
ADVERTISEMENT
Article continues below this ad
In the tiebreaker, Muguruza had multiple howlers and lost points quickly. Cornet took a 4-0 lead initially and extended that to 6-1 and saw five match points. However, Muguruza made a late comeback and saved four match points to bring the tiebreaker back to serve. However, on her serve Muguruza was not efficient and lost the tiebreaker, 7-5, and the set, 7-6.
ADVERTISEMENT
Article continues below this ad