Wow! USA's Tamyra Mensah-Stock Creates History for Black Women at the Tokyo Olympics 2020
Published 08/03/2021, 1:26 PM EDT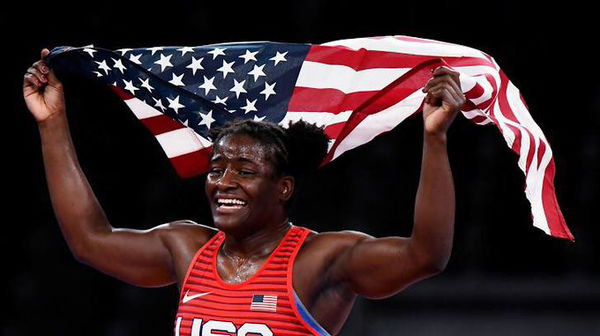 ---
---
Tamyra Mensah-Stock has just created history as the second female wrestler to win Olympic gold in wrestling and the first black female wrestler to win Olympic gold. She won the gold medal in the women's 58 kg freestyle.
ADVERTISEMENT
Article continues below this ad
She beat Nigeria's Blessing Oborududu, a three-time Olympian. Tokyo 2020 was Tamyra's first Olympic games. She entered the tournament as the number one seed and finished it as the Olympic gold medalist, living up to all expectations.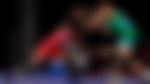 ADVERTISEMENT
Article continues below this ad
Record-breaking Olympic debut for Tamyra Mensah-Stock
Tamyra beat her Nigerian opponent 4-1 in the final to end her Olympic debut on a high. Tamyra scored the first point of the match with a takedown. The Nigerian quickly won a point back after escaping the takedown. Tamyra Mensah-Stock earned the final points of the match with another takedown.
There were a lot of nerves for the first-time Olympian.
"There were a lot of nerve-wrecking moments and I just tried to stay calm but it was impossible," the No. 1 seed in the tournament said.
"I honestly don't know how I did it, I just kept telling my coaches 'I'm nervous, I'm scared' and yeah that's some insight, it wasn't pretty."
Tamyra Mensah-Stock completely dominated all her previous matches. She outscored her four opponents in all her matches with a combined score of 34-5. One of the opponents she beat was the reigning Olympic gold medalist Dosho Sara.
Incredible performance. @MensahTamStock is not only an inspiration for young women, but for all. Her spirit is contagious. She deserves all the love and admiration! ❤️🇺🇸🥇

— Jordan Burroughs (@alliseeisgold) August 3, 2021
Record-breaking night for Blessing Oborududu
Tamyra was not the only athlete to break records on the night. Her opponent, Blessing Oborududu, won Nigeria's first Olympic wrestling medal. The three-time Olympian finally got her hands on some silverware.
"I know that I've created the record for my country."
"I thought of retiring after the Olympics, but right now, I will go into discourse with my president and my coaches about the way forward," Oborududu said.
ADVERTISEMENT
Article continues below this ad
The 32-year-old is a 10 time African Champion and is the country's most decorated wrestler.
ADVERTISEMENT
Article continues below this ad
The Americans will look to continue their winning ways in wrestling, with Kyle Dake, Kyle Snyder, and David Taylor. The Americans are looking to improve on their Rio 2016 tally of 2 gold and one bronze. Adeline Gray won a silver a day earlier. Now it is time for the men's events later on in the week.