"*** Is FFT Thinking": Tennis Community Rage Over Carla Suarez Navarro's Unfortunate Situation at French Open 2021
Published 06/02/2021, 4:57 AM EDT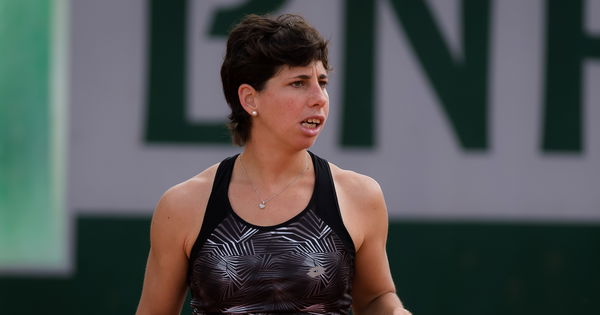 ---
---
Roland-Garros 2021 hosted one of the most awe-inspiring comebacks of all time. After getting diagnosed with Hodgkin's Lymphoma last year, battling through it, and being cancer-free earlier this year, Carla Suarez Navarro made a heart-wrenching return on the tennis court.
The 32-year-old Spaniard made her comeback at the French Open 2021, one of the sport's biggest stages. Despite the long break, she put on a show that lead to many wet eyes. Sadly, it was the last time she played at Roland-Garros, which became even harder to see with ultimate silence as she walked out of the court.
Accordingly, Australian legend Rennae Stubbs made some hard comments on the match having no audience. However, she did enjoy the classic Carla backhand back on the WTA tour.
"There is no prettier backhand in the game than Carla Suarez Navarro!!! Boy have I missed that beauty!! Also, *** is FFT thinking of putting this match on last WITH NO FANS!!! This match and Carla deserved to have people cheering this amazing story and player on! Once again no clue," Stubbs tweeted.
Remarkably, Carla faced the 2017 US Open champion, Sloane Stephens, in the first round. She dragged the match to a three-setter and even served for the win, before losing 6-3, 6-7(4), 6-4. Even though she lost, tennis players took to Twitter to congratulate her stunning performance and come back.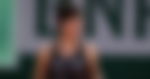 Tennis players congratulate Carla Suarez Navarro on her come back match
Unquestionably, Carla deserved every bit of applause, although she couldn't get it from empty stands. So the WTA family, including opponent Sloane Stephens, two-time Grand Slam champion Simona Halep, former doubles World No. 1 Sania Mirza, made up for it on Twitter.
To begin with, the 28-year-old American Stephens tweeted about Carla's return to the WTA family. Moreover, she described how thoroughly she enjoyed being her opponent on the Parisian clay.
"Carla I'm so happy to have shared court with you and see you healthy with us in Paris!! You're an inspiration, and we're all just so glad to have you back on tour again. Welcome home," Stephens wrote.
Unfortunately, Romanian World No. 3 Simona Halep could not participate this year due to a tear in her calf. However, she caught up on the Roland-Garros matches on television and witnessed Carla inspiring the rest of the world. She wrote, "So happy to see you back on court."
Furthermore, the Indian doubles champion Sania Mirza posted a heartfelt message on Twitter. Inarguably, she was also captivated by Carla's valiant performance.
"How amazing to see you back Carla Suarez Navarro," Mirza wrote. "Not just healthy but playing incredible tennis."
Navarro's down-to-earth nature makes her comeback even more beautiful, and Olympics reporter Nick Marvel still cherishes a small encounter with her from many years ago that is proof of this.
Watch this story: SHOCKING: Bianca Andreescu, Dominic Thiem, Andrey Rublev and Others' First-Round Exits at French Open 2021
Keys, Millman, and others praise Navarro with kind words
Carla is confident about her journey ahead in the 2021 tennis season, and her performance must have told her the same. Moreover, even former players showed their support, and some even despised the fact that there were no fans during Carla's match.
One of the unhappy ones with empty seats was Australian star Ellen Perez. She said, "How does Carla Suarez Navarro get put as a night match when there is a curfew. She deserves a full crowd there to give her a standing ovation. This makes me sad. I hope for her final match she plays, they at least get it right."
Even young compatriot Paula Badosa got chills watching the Spaniard rocking the tennis ball again. She said, "Without words … You have made us enjoy Carlita again. Thank you for giving so much to this sport. Tennis will miss you very much! What an inspiration."
(Quotes are translated from Spanish to English via Google Translate)
Many others, including American Madison Keys, Australian John Millman, Ukrainian Sergiy Stakhovsky, compatriot Lara Arruabarrena, and journalist Lara Arruabarrena, joined the list.
Clearly, it was a moment of pride and amazement to see Carla fight on the court again. Hopefully, she will receive a warm reception the next time she leaves a tennis court.
Truly, Carla is a champion on and off the court and the preceding tournaments will make sure to celebrate that. What are your thoughts on the Spaniard leaving Roland-Garros for the last time without fans?