'You Tell Him Arnold..' – When Martina Navratilova Backed Arnold Schwarzenegger's 'You Got Swamped' Comment on Donald Trump's Approval Ratings
Published 08/08/2022, 7:10 AM EDT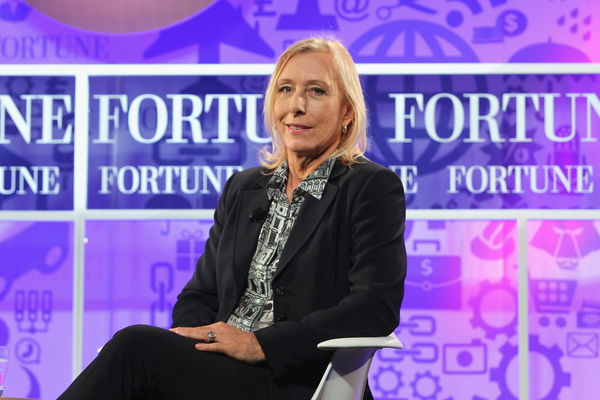 Martina Navratilova, the greatest all-format tennis player of all time, has recently become one of the most active social media users. She uses her Twitter handle to express her strong views and opinions, regarding both tennis and politics.
Skimming through the Tweets of Martina, one can see that she often takes a dig at the former American president, Donald Trump. Going back in time to 2017, Navratilova took a dig at Trump, by backing the words of the legendary bodybuilder, Arnold Schwarzenegger.
ADVERTISEMENT
Article continues below this ad
Martina Navratilova takes a dig at Donald Trump
Similar to every American president since 1945, Donald Trump also went through the approval ratings during his tenure. However, eight weeks into his time in the presidential office, he suffered a major blow when only 37% of the Americans approved of his work. As per reports, it was the lowest rating for any president at such an early stage of their tenure as the president.
Learning about the rating, Schwarzenegger, the former governor of California, took a dig at Trump in a video message. Considering the aura of the Austria born bodybuilder, it is needless to say that the message spread like wildfire. Learning about the message, Navratilova took no time in taking to her Twitter handle, supporting Schwarzenegger's views.
"Arnold Schwarzenegger Skewers Trump Over His Low Approval Ratings- you tell him Arnold:)," she wrote.
This wasn't the first time that Martina took a dig at Trump. Even though Trump assumed the presidential office in January 2017, the roots of Navratilova's Tweets on him dated back to his entrepreneurial days.
Arnold Schwarzenegger's message for Trump
Following Trump's ratings, Schwarzenegger took to his Twitter handle, uploading the video message. "Oh, Donald, the ratings are in, and you got swamped," he started. "Wow. Now you're in the 30s?" he further added.
Watch this story- Martina Navratilova gives her opinion on the negative impact of social media
ADVERTISEMENT
Article continues below this ad
Going back to the early days of Trump's reign as president, one can recall him emphasizing on redacting measures that were concerned with providing after-school programs for children and food for the poor. Even though a handful section of society praised the Republican representative, that wasn't the case with Schwarzenegger. Going ahead in the message, he said, "But what do you expect? I mean when you take away after-school programs for children and Meals on Wheels for the poor people, that's not what you call 'making America great again.' Come on!"
ADVERTISEMENT
Article continues below this ad
Schwarzenegger had already called out Trump for his low approval rating. However, that didn't stop him from taking a further dig at him and his council. Going further into his message, he said, "Who is advising you? Let me give you some advice." "Go to a middle school. The Hart Middle School. Right in Washington. Six miles away from the white house. I'll take you there, so you can see the fantastic work that they're doing for these children.".
What was your reaction to Schwarzenegger's criticism of the former President of the United States? Do let us know in the comments below.