'I'm Mentally Weak' – Naomi Osaka Poured Her Heart Out on How She Wept After a Hard-Hitting Kobe Bryant Reality in 2021
Published 11/26/2022, 3:05 PM EST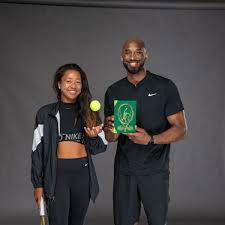 Losing basketball legend, Kobe Bryant was one of the biggest losses the sporting world has suffered this century. He inspired millions around the world to chase their dreams. One person among those millions of people is the Japanese tennis star Naomi Osaka, who looked up to him and wanted to seek guidance from him. However, she thought she was too weak and hence did not contact the LA Lakers legend.
But what she did not know at that time was that she would not be able to contact her idol ever again. And the regret was way too heavy for the young tennis player to carry.
ADVERTISEMENT
Article continues below this ad
Naomi Osaka felt mentally weak to contact Kobe Bryant 
It has been almost three years since we lost the basketball legend, Kobe Bryant, but the wound is still fresh in the minds of his fans. Thinking about the loss is heartbreaking for everyone. He was one of the torchbearers of the NBA, and people admired him for his tenacity. That includes Naomi Osaka as well.
In February 2020, Osaka talked about the loss. With tears in her eyes, she said, "I'm feeling like I let him down." After winning the Australian Open, her run in 2021  was not going great, and this made her doubt herself.
She said, "I'm supposed to carry on his mentality in tennis, and here I am…losing matches because I'm mentally weak." The player wanted to confide in him and seek guidance, however, it was too late. She said, "I didn't want to feel like a loser, and now I'll never have the chance to talk to him again."
ADVERTISEMENT
Article continues below this ad
Despite whatever she said, we all know, had Bryant been alive, he would have supported Osaka. He would have asked her to continue fighting and that eventually, she will get back up.
Can Osaka regain her form in 2023? 
The Japanese player has experienced a downward trend since her last Grand Slam title in 2021 at the Australian Open. After that, she has not won any major title and 2022 season did not go in her favor. Her best performance was at the Miami Open, where she reached the finals. However, the incumbent world no. 1 Iga Swiatek defeated her there. After that, she faced multiple injuries which hindered her progress on the Tour this season.
ADVERTISEMENT
Article continues below this ad
WATCH THIS STORY: Rise of a superstar – Iga Swiatek's victorious moments on the WTA tour
With 2023 just around the corner, do you think Osaka will be able to get back on track and eventually compete for the top honors? Let us know in the comments below.