Amid Silicon Valley Bank Collapse, Serena Williams' Husband Alexis Ohanian Puts Crypto Back on the Map With a 'Recession' Message
Published 03/15/2023, 9:30 AM EDT

Follow Us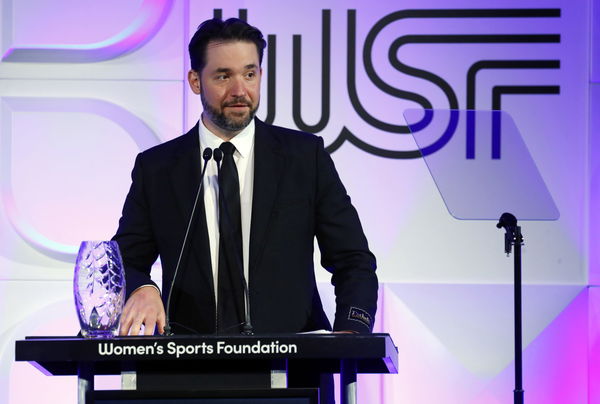 Alexis Ohanian is the go-to person for all things internet. The Reddit co-founder has years of experience and expertise that when coupled with his interest in blockchain and crypto makes him an icon for amateur investors. Recently, the husband of WTA legend Serena Williams talked about "trylolli" and its probable effect on the future of bitcoin. For people looking to get into the crypto circuit, Ohanian gives a foolproof brief on what the future of bitcoin might look like.
Ohanian's advice comes at a time when Bitcoin's price has been increasing for four days in a row. With that comes the exodus of banking stocks as investors might be shifting to crypto. Ohanian's analysis of "trylolli" impacting the future of crypto is already showing its effects in real time.
Serena William's husband Alexis Ohanian made a crypto prediction that just came true
ADVERTISEMENT
Article continues below this ad
In the video presented by Ohanian's startup 776, he says, "I'm not gonna make a bitcoin price prediction…but do I think it's gonna increase in value in the next decade? Yes.  And do I think Lolli is going to play an important role in bringing it to a mainstream audience? Yes."
He further explains the basic function of Lolli and why he sees it boom in the world of crypto. "This is it is attached to something that we all do, which is just "spend"…By making it easy to save money while you are shopping you're in effect creating a whole lot of new crypto users. And especially with the economic uncertainty let's go find of the next few years in the short term it is all the more incentive for people to want to save money."
Ohanian also talks about how he was in discussions a few years ago that debated the future of Lolli. "We looked at Lolli to lead the seed around the globe a few years ago…How this would do in an environment where could be a recession? And the folks are putting the brakes on the spending and the bet was it is to be rather countercyclical because during harder economic times that when people tend to discover or rediscover the joy of saving money."
ADVERTISEMENT
Article continues below this ad
What does the bitcoin scenario look like right now?
Ohanian's analysis is coming at a great time for new investors who are looking to engage in crypto trading and for seasoned investors who might be looking to make a game-changer investment. With the price of Bitcoin increasing and hitting $24,737.70 at the time of writing, it is not surprising that investors are shifting to crypto from banks. A few hours ago the price went as high as $24,851.62. With this, the buyers are driven on pushing it to the $25,000 mark which has been tricky with the RSI rolling toward its resistance level.
However, this does not stop the collapse of Silicon Valley Bank and Signature Bank owing to massive withdrawals. Other investment-heavy banks like JP Morgan are now nearing withdrawals that break 10-year records.
ADVERTISEMENT
Article continues below this ad
WATCH THIS STORY: Alexis Ohanian's Seven-Word Reaction to Alex Morgan's Heart-Melting Mama Ring Disclosure
Alexis Ohanian sure has really insightful advice on these fluctuations and his followers are only gaining great inputs from him on how to amp up their crypto-game in this economy.