Canadian Tennis Beauty Eugenie Bouchard's Alternate Career Tease Receives a Thumping Majority From Fans
Published 12/28/2022, 10:05 AM EST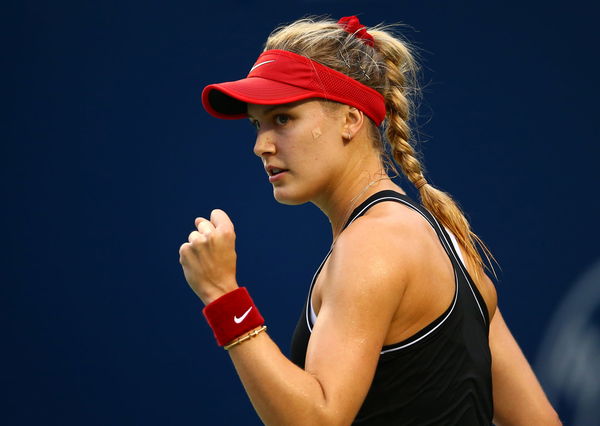 Eugenie Bouchard, the Canadian tennis professional, has been putting in a lot of effort lately to get ready for the 2023 tennis season. After her most recent practice session on the New Zealand tennis court, Bouchard indulged in a little bit of feeding frenzy at a nice restaurant. She added some curiosity by making a joke about changing careers on her Instagram story.
Bouchard's 2022 season got off to a late start in August after she fell in the rankings. Her shoulder injury had sidelined her for more than a year. She planned to compete in Wimbledon 2022, but as there would be no ranking points, she ultimately opted against it. She decided to concentrate on ranking events to improve her rating. On her Insta story, she teased her fans with pictures of the New Zealand tennis court.
Eugenie Bouchard shares a funny joke about her career on her Insta story
ADVERTISEMENT
Article continues below this ad
Due to her early performance and attractiveness, Bouchard gained worldwide recognition. The Canadian was soon inundated with modeling and sponsorship offers. She hasn't been as successful on the court as she has been off it, but she is still a very marketable player who constantly draws sizable crowds everywhere she plays. When she reached the semifinals of three Grand Slams in 2014, she grabbed notice and was predicted to become a strong force in the years to come. She posted a series of photos on her Insta story highlighting her favorite dishes at a restaurant.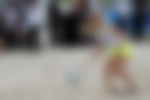 During her grueling surgery recovery, Bouchard worked as a tennis commentator for 'Tennis Channel'. In August of last year, Bouchard made her tennis comeback. A few months ago, she achieved her first WTA 1000 triumph since the year 2019. Bouchard defeated Kayla Day in the 2022 Guadalajara Open first round with scores of 7-5, 6-3. In her recent Insta story, she jokingly asked her followers if she should shift her tennis career to other food vlogging experiences.
ADVERTISEMENT
Article continues below this ad
The majority of followers (more than 79%) agreed with her joke and answered in the affirmative in the Insta poll. According to SportsPro's 2015 list of the top 50 most marketable athletes, the former world number five was at the top of the list.
Bouchard and her 2022 tennis campaign
Bouchard spent the holidays in Dubai and shared a carousel of photos on her Instagram profile. The Canadian posed on the beach while attending the World Tennis League exhibition match in Dubai. She captioned the image with a Christmas tree, and a Santa Claus emoji for her more than 22 million fans. Bouchard had also received an invitation to the 2022 Chennai Open as a wildcard. She advanced to the quarterfinals after winning in two straight sets. In Tampico and Midland, her final two contests of the season, she suffered defeats in the first round. Bouchard finished the year with a 326 final world ranking.
ADVERTISEMENT
Article continues below this ad
WATCH THIS STORY-: How Roger Federer, Rafael Nadal, Novak Djokovic, Serena Williams, and Others Travel
Let us know what you think about the Canadian tennis player in the comments below.