'Denying Women the Right to Vote Is Next' – Martina Navratilova Comes Down Hard on Wyoming State's Latest Abortion Move
Published 03/19/2023, 8:21 AM EDT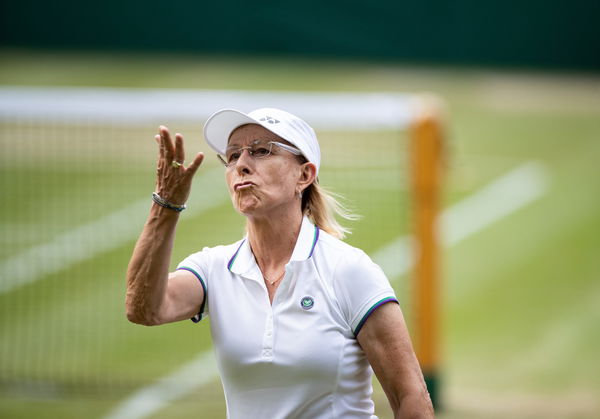 One of the biggest conflicts raging in the US right now is the debacle on abortion and abortion laws. Amidst the growing resentment of either party in this debate, 15 states have imposed restrictions on access to medication abortion. These states are being counted in addition to the ones with total abortion bans. This causes a huge uproar from the US citizens who are "pro-choice" and support having the right to abortion. To add to this debacle, Wyoming now becomes the first state to outlaw the use of abortion pills. While Twitter is definitely going viral with everyone's opinions on this decision, tennis legend Martina Navratilova has something to add.
The government in Wyoming's new law is adopted as a part of the growing efforts by conservative states to restrict access to abortion in the country. The law is one of its kind in the way that it bans the use of abortion pills; a totally separate decision from an abortion ban. Navratilova took to Twitter to express her outrage at the move, saying it is a direct attack on women's rights in general.
Martina Navratilova criticizes the Wyoming government in her unique style
ADVERTISEMENT
Article continues below this ad
The law, signed by Governor Mark Gordon on Wednesday, will take effect on July 1st. It bans the use of medication, such as Mifepristone and Misoprostol, which are common drugs for medication abortions. The law also prohibits telemedicine abortions, where patients can receive the pills without physically visiting a clinic.
Responding to this news feature on the New York Times, Martina Navratilova shared her feelings with her followers on Twitter. She wrote, "Welcome to 19th century Wyoming. Denying women the right to vote is next." The 59-time Grand Slam champion believes, like all pro-choice advocates, laws restricting abortions or abortion pills are taking the country back by centuries if not decades. She further stresses on her opinion that these laws are eroding women's rights as a general, mocking the Wyoming government that maybe they will snub women's right to vote in their next move.
ADVERTISEMENT
Article continues below this ad
This debate over the decision of the Wyoming government is likely to bring more opinions from both sides as the world remains divided on the issue.
ADVERTISEMENT
Article continues below this ad
Regardless of where you stand on the scale, this new law is sure to spark further debate and controversy in the months to come.
Watch This Story: Martina Navratilova adds a surprising twist in her farewell tribute to Serena Williams at the 2022 US Open