Despite Her Recent Struggles, Rick Macci States Aryna Sabalenka Has the Best Serve
Published 01/20/2022, 12:38 PM EST
By
Second seed Aryna Sabalenka has progressed to the third round of the Australian Open. However, it hasn't been an easy journey for her to get there. Aryna's struggles with her serve continue, pushing her to be on the backfoot during her service games in a match. 
The Belarusian, known for her powerful serves, made 12 double faults in her first-round match against Storm Sanders. Whereas, the number further increased to 19 during her second-round match against Wang Xinyu. 
ADVERTISEMENT
Article continues below this ad
Soon after her match, tennis coach, Rick Macci released a video on his Twitter account, analyzing her serve. The former coach of tennis legends Serena and Venus Williams  claimed to analyze the serve through 'reverse engineering.'
He also called Sabalenka's serve one of the best serves on women's tour 'technically.' 
Rick Macci analyses Aryna Sabalenka's serve
Macci started off by saying that he sees the whole thing with a very different set of eyes. The 67-year-old then started giving a detailed explanation of the serve. He said, "Biomechanically, how her serve is put together, believe it or not, is one of the best on the women's tour."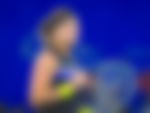 He then talked about the positives in the technical details of the serve. He explained the serve, saying, "The driving of the legs is perfectly synchronized with the racquet. It's what we call it's counter-intuitive."
"So technically, she has the one of the best serves on the tour," he added.
Macci, who is also known to have worked with players like Andy Roddick, Maria Sharapova, and Jennifer Capriati, appreciated Sabalenka for her courage and fearlessness. He also said that Aryna didn't have a lot of room for error with her second serve, which has been troubling her lately. 
ADVERTISEMENT
Article continues below this ad
Effect of Sabalenka's serve on her game
Aryna Sabalenka's struggles with her serve has been going on since the start of the new season. Entering the Adelaide 2 event as the top seed, Aryna failed to cash in on the opportunity. Hitting 21 double faults, she made an early exit from the tournament, losing to qualifier Rebecca Peterson 7-5, 1-6, 5-7 in the first round. 
ADVERTISEMENT
Article continues below this ad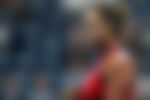 The 2nd seed, continuing to struggle with her serve at the Australian Open, has somehow managed to take down her first two opponents. However, the competition is bound to get difficult with the next rounds coming up. She will next play 31st seed Marketa Vondrousova.