EXCLUSIVE: Sloane Stephens Gets Candid About 2022 Goals, Facing Venus and Serena Williams, and Her Partnership With Shaquille O'Neal
Published 06/17/2022, 11:29 AM EDT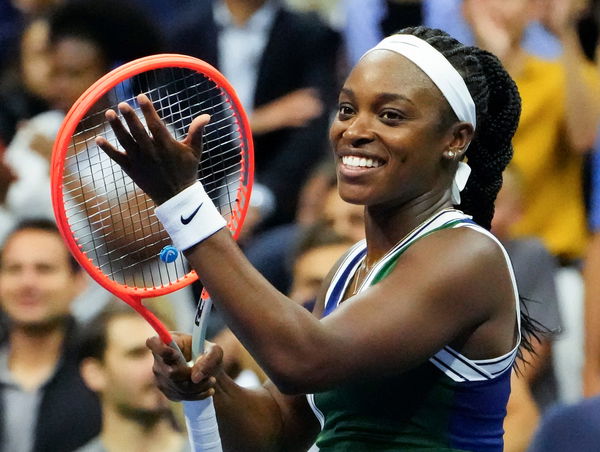 29-year-old American tennis player Sloane Stephens rose to the limelight in 2017 after winning the US Open. In the final, the then World No.83 beat her dear friend Madison Keys in straight sets to clinch her maiden Grand Slam title. 
What made her triumph even more remarkable was the fact that she was away from tennis for nearly 11 months with a right foot injury. 
ADVERTISEMENT
Article continues below this ad
Since then, she has reached one more Grand Slam final at the French Open in 2018 (lost to Simona Halep 3-6, 6-4, 6-1). Although Stephens won the US Open on the hard surface, she prefers the red soil and conveyed her preference on an Instagram story. 
Earlier this month, Stephens reached another quarter-final at the French Open and fell to her compatriot Coco Gauff. Despite the loss, the 29-year-old showed her incredible clay-court prowess. After the clay-court season, the American tennis player will shift her focus toward the grass-court season.
Stephens, who is scheduled to play at the Bad Homburg Open before Wimbledon, will look to eclipse her best showing (quarterfinals in 2013) at The Championships.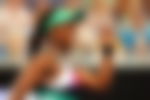 Before playing the Wimbledon, Sloane Stephens sat down with Mahalakshmi Murali of EssentiallySports to discuss her goals for 2022. Also, she talked about collaborating with Shaquille O'Neal, the rise of Iga Swiatek, and facing Venus and Serena Williams. 
Watch This Story: Serena Williams, Sloane Stephens, and John McEnroe's appearance on Jimmy Kimmel Live
You had a really shaky start to this year's clay-court season, yet you managed to find your groove at Roland Garros by reaching the quarter-finals. How did you manage to turn that around?
Yeah, obviously Roland Garros is one of my favorite tournaments. So, I was happy to, you know, get back there and play there. I mean, obviously having not a great clay-court season leading up to that was tough. But I think I managed to turn it around and happy to be at another quarter-final and reached my eighth second round at the French Open. 
And how is it facing another fellow American at a Grand Slam at the quarter-final stage?
Yeah, it's always tough playing another American, but I think you just have to go out and compete. It happens obviously a lot because there are so many Americans in the top 100 and so many great players. It's never that fun, but it's always entertaining and always a good match and good competition. 
You lost a really close match to your good friend Coco Gauff, and she turned out to be the eventual finalist at Roland and it was definitely a special Slam for her as she graduated high school the same week and how happy are you for her success at such a tender age?
It's great obviously, you know she's had great results, and it's obviously a great accomplishment to graduate from high school and obviously make the French Open final. So, I think all in all she has had some really special moments and I think it will be something that she remembers for a long time. 
Recently, on your Instagram stories, you had shared that your favorite surface is red clay. Also, you went on to become the finalist in the year 2018 at French Open, but on contrary, American tennis players, they often say that clay is not an American thing to do. How did you develop your love for Terre-battue (clay)?
I don't really know who says that because a lot of Americans have done well on red clay. So, I don't know I mean, a lot of us prefer red clay. We prefer the French Open. Myself, Maddie (Madison Keys), Jess (Jessica Pegula), Coco (Gauff), Jen Brady, we all enjoy playing on red clay. So, I don't know, I've always loved playing on the clay. I've always loved French Open. But, yeah, I think that status definitely being turned around. 
You really had a heartbreaking loss in the year 2018 to another great player, Simona Halep. Do you think, like, in your career, you can pull that title off?
I would hope so. I mean, it's my favorite tournament besides the US Open and I would love to win the French Open, and just retire one day. That would be very nice. 
Rolling into the grass season, tell us about your this year's Wimbledon preparations. We got to know that you will be just playing Bad Homburg tournament in Germany and will you be playing any other events before the big tournament in London?
No, just playing the Bad Homburg and then going to London for Wimbledon. Yeah, I'm just gonna play the warm-up and get ready to play the Slam. 
Talking about Iga Swiatek, she has been a sensation over the past few months and she just tied with Venus Williams' 35 consecutive match winning streak at the French Open. With consistent players like Iga coming up, how tough has the competition on the WTA tour has evolved over the years?
I think obviously it's super competitive. What Iga's done is incredible. But, I think obviously there's a lot of up-and-coming players. There's a lot of space. Obviously, coming out of covid, the rankings are a bit different. Some people have had better results than others. So, I think it will all even out, but those up-and-coming players are definitely making their way up in the rankings. 
Who has been the toughest opponent so far in your career?
I guess, probably Venus or Serena. 
Recently, you collaborated with Shaquille O'Neal for the Icy Hot products alongside two other athletes. It was (Rose) Lavelle and Darren Waller. How has the collaboration been like and what difference have the products made in your day-to-day life?
The collaboration has been great. Obviously, I play an individual sport, so being able to be on Icy Hot squad has been super cool. Obviously, with Shaq and Darren, and Rose, all incredible athletes. I think, obviously everyone knows that Icy Hot is a household brand that I have grown up using. So, for recovery and you know for pain, it's always been a go-to for me. So, it's nice to be able to collaborate with the brand that I actually truly love and genuinely love using. And then to be affiliated with you know the other team members is super awesome just because they are incredible in their own fields and it's always nice to bring athletes together. And it's cool what Icy Hot is doing, obviously. 
Tell us something about Shaq. He's not just an NBA star, but also a businessman. Have you sought any kind of advice from him related to business since you have your own collaborations and projects?
No business advice from Shaq (laughs). Obviously, Shaq is incredible. He's done so much on the court and off the court. He really truly is a businessman, and I think, even more importantly, he gives back. I think, especially, like today him doing combat sports with Icy Hot, being able to put new courts up across the country, to be able to encourage kids to play basketball and get out and be more active. It's something that we can all look up to. And Shaq has done it so well and so gracefully. He's been such a well-rounded athlete and person, and businessman and entrepreneur. I think it's something we can all look up to. 
Of course, you have your own foundation as well. How important a role does charity play in your life and have you looked up to Shaq and his worth in this field? 
Obviously, I love giving back. I love being able to support the game of tennis. Obviously, tennis has given me so much in my life. So, it's only right to give back and get that experience to someone else who normally wouldn't have that experience and be able to play tennis and learn the game. Obviously, Shaq has done that amazing over his career. Being able to implement basketball and new courts and new things all over the country for the betterment of others and for kids has been incredible, and it's something we can all look up to. 
And it's been almost a decade since you started your own foundation. I believe you were just 19 years old back then. What was your prime motivation behind such a huge step at such a tender age? 
Yeah, next year is our ten-year anniversary, which is awesome. But no, I just really love giving back, and obviously, like I said, tennis has given me so much in my life. I really wanted to give that opportunity to someone else to be able to enjoy the game and the sport as much as I have. Growing up, I thought, well, I still think it's the best thing ever. It's such a lifelong sport and being able to, you know your own community where tennis isn't very popular. Being able to bring it to communities and take kids who would never really play tennis, obviously, tennis is a really hard sport, and being able to provide a court, a racket, a ball, or a coach… I think being able to give kids opportunity to do that is really important. So, that's the main reason why I started the foundation. 
In the near future, can we expect anyone from your foundation on the WTA or ATP tour? 
I don't know if, in the near future, they are all pretty young still but definitely, some college graduates, college attendees, and some kids playing on their high school team, you know that just have picked up a racket with us and being able to make their high school team or college team. That's been most of our success stories. Maybe one day you will see on the ATP tour and the WTA tour. 
Players like Naomi Osaka, Bianca Andreescu, they have been pretty vocal about their mental health, and also they have taken time off their professional careers to focus on it. How strongly you feel for athletes to prioritize their mental health and also you were part of the discussion at the White House roundtable in February this year. So, at what point in your playing career you considered it to be a priority? 
My mom's a psychologist. So I grew up always focusing on my mental health and my physical well-being and just how I'm feeling. I think obviously being living in a house with a psychologist is; I feel like I have always had to be more aware and so being a professional athlete on top of that. I think the awareness is really important just because you have to know how are you feeling; you have to be able to identify nerves. When you are just feeling overwhelmed, I think my whole career, my life, I have tried to be very aware and tried to isolate how I am feeling. So, I think it's important, and it's a good thing that now professional athletes are more interested in taking care of themselves and understanding what they need all around as a whole. 
Iga Swiatek, she has been traveling with a psychologist for a long time now, and recently, Ons Jabeur, she started off in Madrid and Rome. She was traveling with her psychologist. Since your mother was a psychologist herself, so, how important has she been in your entire journey as a tennis professional?
ADVERTISEMENT
Article continues below this ad
She's been great, obviously; I prefer her just to be in the role of mom. She's been a great mom, a great mom figure, a good tennis mom, I would say. But obviously has helped me in a lot of different ways. She was a swimmer, which was great. So, she knows what it's like to be competitive and has been super understanding. So, that's been a really nice thing to have. 
Your goals for the rest of the season? What are they, like concretely? Can you please tell us? 
Concretely, no. Just to finish off the season injury-free and get back into the top 20 hopefully and get my ranking up and obviously to have a good US Open series. 
ADVERTISEMENT
Article continues below this ad
Since you talked about the US Open, you have won there in the year 2017 by defeating your really good friend Madison Keys. You have had like really good memories in that tournament and definitely, it's a home Slam for you. How excited and how important is it for you to perform well at the USO?
Obviously, being an American and playing at the US Open has always been one of the best things ever. It's always been important to perform there and play well there and have good US Open. Really happy and pleased that I was able to win there. Yeah, always wanting to have good performances there and good results there. So, that's something we work for every year.