Hollywood A-Lister's $30 Million Sorrow in Silicon Valley Bank's Collapse Receives Sympathy From Tennis Legend Martina Navratilova
Published 03/18/2023, 8:15 AM EDT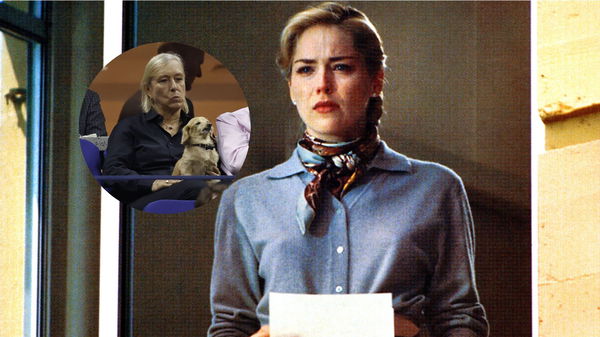 A number of notable figures in the United States have been recently affected by the collapse of the Silicon Valley Bank. From some of the most renowned businessmen like Serena Williams' husband to Hollywood stars, everyone has lost a considerable amount of their deposit after the historic failure of the bank. The list of such popular people might also include the renowned American actress Sharon Stone, according to some exclusive reports.
It came to the public lens after she gave a galvanizing speech during an event, in which she was honored with the Courage Award. Meanwhile, Stone got overwhelmed with emotions as she opened up about losing her deposits to a 'banking thing'. It has caught the attention of other renowned figures, including the American tennis legend Martina Navratilova. Speaking of it, the 18-time singles Grand Slam champion reacted to her celebrity pal who may have fallen victim to the recent banking collapse.
Martina Navratilova reacts to Sharon Stone's galvanizing speech
ADVERTISEMENT
Article continues below this ad
The Total Recall star was at the Women's Cancer Research Fund, where she received a prestigious award. Later, a galvanizing speech followed at the event in which she gave certain hints about being a victim of the recent banking failure in the United States. Stone got emotional as she opened up about her charity initiatives.
Speaking about it, the American actress said that she is courageous enough to encourage donations despite losing a considerable amount of her funds to a recent banking thing. She said, "I'm a technical idiot, but I can write a f*cking check," according to a report from HuffPost.
Even though she didn't mention the name of any bank, the audience was certain that she was referring to the recent Silicon Valley Bank collapse. Along with common depositors, many notable figures have also become a victim of the collapse. Stone's surprising revelation during the award show also caught the attention of the American tennis legend, Martina Navratilova. The 18-time singles Grand Slam champion reacted on Twitter by saying, "Brava Sharon!"
ADVERTISEMENT
Article continues below this ad
Other renowned figures affected by the SVB collapse
Apart from Sharon Stone, there are many depositors in the United States who have been exposed to the recent banking failure. Especially, some of the top entrepreneurs, like Serena Williams' husband, Alexis Ohanian. His venture capital firm's plans might also be in jeopardy during the adverse phase.
Since the scandal, the American internet entrepreneur has been quite vocal on his social media platforms. One of his recent Twitter posts also suggested his concerns for his capital firm Seven Seven Six amidst the SVB collapse.
ADVERTISEMENT
Article continues below this ad
WATCH THIS STORY: Serena Williams pays tribute to Roger Federer.
What do think of the notable figures like Sharon and Alexis Ohanian's struggles after the SVB collapse? Let us know in the comments section.