'I Tried to Fight for Ukraine Too' – Dayana Yastremska Makes a Generous Move Following Success in Lyon
Published 03/08/2022, 8:30 AM EST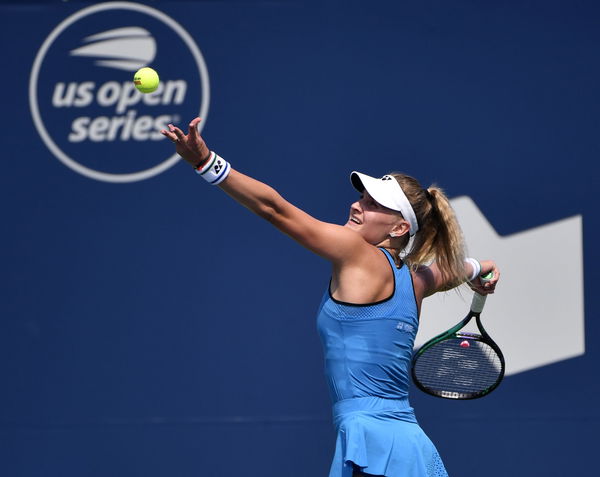 The story of the 21-year-old Ukrainian tennis star, Dayana Yastremska, is truly inspiring. Many fans and players praised Dayana's courage and passion in the last few days. In the difficult circumstances, Yastremska and her 15-year-old sister had to flee their country, leaving their families behind. Since then, her inspiring journey in the WTA Lyon event was truly remarkable. 
Earlier, Dayana left Ukraine to play at the WTA event in Lyon. In that event, she surprised everyone by reaching the final. Unfortunately, she lost in the final to the no.8 seed of China, Zhang Shuai, in three sets. During the trophy ceremony, with tears flowing through her eyes, she made an incredible announcement to help her country in times of crisis. 
ADVERTISEMENT
Article continues below this ad
Dayana Yastremska will donate all her prize money to Ukraine
In the final of the Lyon Open, Dayana lost in a hard-fought match against Zhang in three sets; the final score was 3-6, 6-3, 6-4. During the trophy presentation, she could not hold her tears back, but she gathered herself to make an incredible announcement of donating all her prize money to the Ukrainian Foundation. 
"This week has been really hard for me. I fought on the court here, not just for myself, but for my country. I'm very happy to have reached the final, it's been a long time since I didn't happen. Today I was quite tired, but the crowd and the people have been fantastic since I arrived here. Everyone has been very supportive of me," Dayana said after the final (Google Translate).
WATCH THIS STORY: How Naomi Osaka became the highest-paid woman athlete ever
"People have given me so much energy, and I want to thank the tournament director for giving me an invitation. Thank you to my team, my coach, to my little sister who suffered like me, to my agent, and to her family for coming, it means a lot. I will donate my prize money earned here to the Ukrainian Foundation to support Ukraine. If Ukrainians look at me from there, I want to say to them: 'You are so strong, you have a fantastic spirit of resistance and I tried to fight for Ukraine too'," she further said. 
Yastremska gets a wild card in the Indian Wells
Due to the sudden withdrawal of Italian player, Camila Giorgi, the scenario of the Indian Wells has completely changed. Earlier, Naomi Osaka received a wild card from The BNP Paribas Open. After Giorgi's withdrawal, Naomi will now get in the main draw and will play former US Open champion Sloane Stephens in the first round.
ADVERTISEMENT
Article continues below this ad
Meanwhile, Yastremska was scheduled to play a qualifier. However, the organizers at the Indian Wells decided to give Naomi's wild card to Yastremska. As a result of this, the Ukrainian player will straightaway play in the first round at the BNP Paribas Open, where she will face Caroline Garcia of France. 
ADVERTISEMENT
Article continues below this ad
How far can Yastremska go at the Indian Wells? Let us know in the comments.