'It's About Biology'- Despite Receiving Flak, Martina Navratilova Sticks by Her Stance on Transwomen's Participation in USA Powerlifting
Published 03/16/2023, 10:01 AM EDT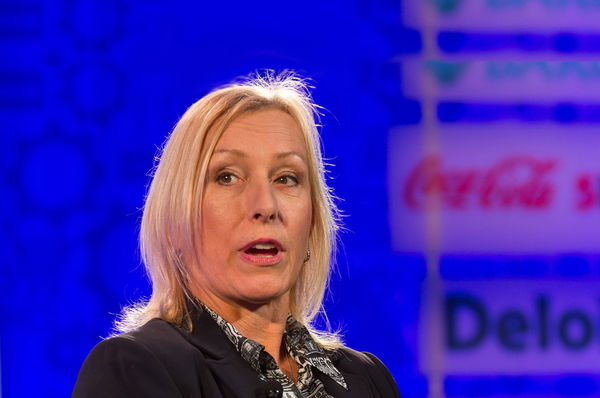 Martina Navratilova received a lot of flak in her day for coming out as a lesbian. While she lost many endorsements, she also gained popularity among the LGBTQ+ community who started idolizing her, drawing inspiration from her courage. However, in 2019, things changed as she was now unpopular among the trans community and their allies for her seemingly "transphobic" statements. Recently, Navratilova engaged in another debacle on Twitter over the participation of trans women in powerlifting, and she is sticking to her stance.
In a report by CBS News, it is reported that a new ruling by a court in the USA will now allow transgender women to compete in powerlifting championships. While many allies of the LGBTQ+ community are celebrating this decision, Martina seems to disagree. With this, she got into an unpleasant exchange with one tennis enthusiast in the comments where she claims she is just siding with "biology".
ADVERTISEMENT
Article continues below this ad
Martina Navratilova stands by her believes
Martina Navratilova posted the CBS article on the issue on March 10th. She also added her opinions to the post as she wrote, "Trans women can compete in USA Powerlifting, ruling says – CBS News- wow… this is just wrong. Period."
Earlier, as well, Navratilova disagreed with letting transgender people participate in either of the male/female categories in sports. This time, she went straight out and called it "wrong". To this @Manoj_tennis replies, "Why do you hate trans women? Why dont you join Ron Desantis and his trans hate?" 
It's about biology. Try again.

— Martina Navratilova (@Martina) March 15, 2023
In referring to the Governor of Florida and his controversial treatment of transgenders, this tennis fan points out that Martina's behavior is not unlike a transphobic one. To reply to his question, Martina says, "It's about biology. Try again."
In 2019, Navratilova made statements about transgender participation in sports that labeled her as an out-and-out transphobic. She called their demands to participate "unfair", "cheating", and "insane". Navratilova is of the belief that the hormonal and biological structure, in general, is different for men and women. As such, she argues, it would not be fair to allow anyone who is of the opposite gender to participate in physical activities such as sporting events of another gender.
ADVERTISEMENT
Article continues below this ad
Navratilova is not winning over fans from the trans community and here's why
In her tweet in February 2018, Navratilova also called out trans people and said, "You can't just proclaim yourself a female and be able to compete against women. There must be some standards, and having a penis and competing as a woman would not fit that standard," via Fox News.
As per Yahoo Sports, her blatant and brutal dismission of transgender people and their gender identity caused a huge roar from the trans community, which prompted her to delete the tweet and ask for an apology.
ADVERTISEMENT
Article continues below this ad
Who would you side with? Let us know in the comments.
Watch this story: 'Seems to Get Injured a Lot' – Martina Navratilova Once Used Serena Williams' Example to Talk About the 'Fragmented' Nature of Women's Tennis. 
Edited By: Deepika Bhaduri